Learn how to use a slow cooker, how to choose the right slow cooker, and all the best tips to get perfect results every time.
Jump to:
This post may contain affiliate links. Read more about it in the privacy policy.
Why and when to use a slow cooker
Slow cookers are great for making food that benefit from cooking for a long time. Things like stews, sauces and soups are particularly great in the slow cooker. Slow cookers are also great for cooking meat until it's fall apart tender. It's a good way to cook cheaper cuts of meat with incredible results.
The main benefit of using a slow cooker to cook your meal, is the long cooktime. For most recipes, you simply add the ingredients to the slow cooker, place the lid on top, and wait for 6-8 hours. Many food items can also be left for much longer than that; in fact, certain recipes can be left in your slow cooker for up to 14 hours. This means that you can put dinner on in the morning, go out for the day, and come home to a prepared meal!
With a slow cooker, you won't have to hover over your pot all day. This is great for hot summer days when you'd rather not be cooking, or when you simply don't feel like cooking. There is also a lot of leeway for the cooking time for most recipes. Lemon chicken is technically cooked through after 4 hours, but it can be left in the slow cooker for up to 10 hours and still taste just as good.
The slow cooker is therefore the perfect "set it and forget it" kitchen appliance. Avid crockpot users will tell you that they usually dump the ingredients in the slow cooker in the morning, and only return to it whenever they are ready to eat in the afternoon. Slow cookers are therefore perfect for effortlessly making homemade meals, and a great tool for busy families, beginner cooks or those that don't particularly enjoy cooking.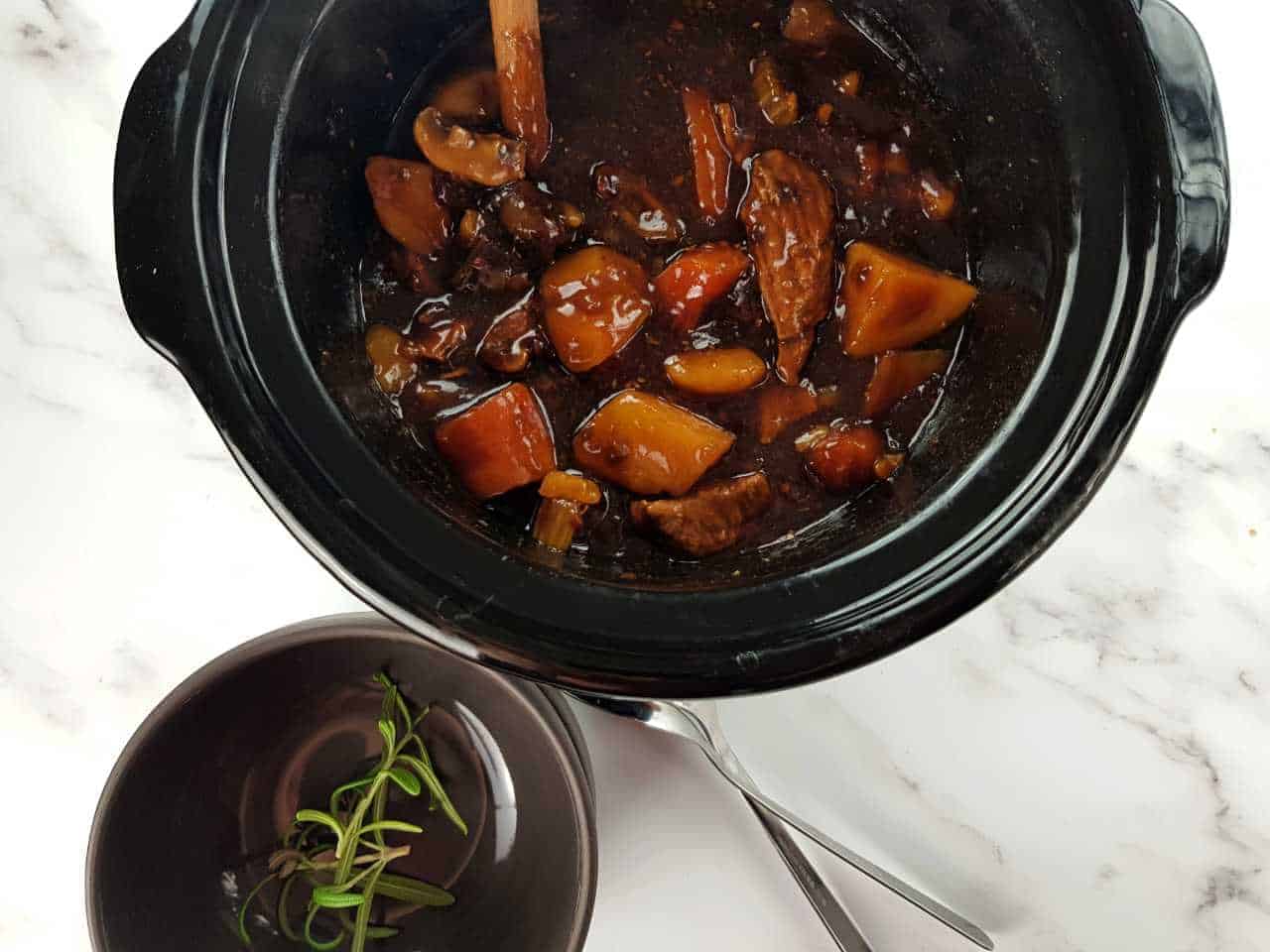 5 Top Tips for using a slow cooker
Always add a tiny bit of liquid at the bottom of the slow cooker to keep food from burning. A splash of water is enough! Most of the time, oil is not needed.
Avoid taking the lid off while the food is cooking. Taking the lid off will remove enough heat to add at least 30 minutes to the total cooking time.
Use the low setting if you can - the lower and slower the meal cooks, the better it will taste. Trust me!
In general, use less liquid and oil than you would on a stove top, especially for stews.
Slow cookers work best when they are close to being full. Try to fill it at least ¾ of maximum capasity. If you usually cook small portions, buy a smaller slow cooker.
Crockpot vs slow cooker
Crockpot is a very well known slow cooker brand. It's regarded as one of the best slow cookers, and is sold worldwide. Crockpot has many varieties of slow cookers, and also manifacture other cooking equipment like [amazon text=pressure cookers&asin=B07C1MPN1T]. The terms crockpot and slow cooker is commonly used to describe the same kitchen appliance, and you can safely make a crockpot recipe even if your slow cooker is of a different brand.
Different slow cookers and their uses
[amazon text=Oval slow cooker&asin=B007XEJ322]- The oval kind is particularly good for recipes where you want to make a big batch, but you don't want to layer the ingredients on top of each other. Any slow cooker can be used to make stews, soups and more, but the oval variety can also be used to make ribs, whole roasted chicken, cakes and lasagna.
[amazon text=With a built in timer&asin=B072FW6JT6] - The built in timer allows you to control the temperature and cooking time. The majority of these slow cookers can be programmed to automatically switch from being on the cooking setting to the "warm" setting, which means that the food won't overcook but rather be kept warm until it's time to eat. This is particularly convenient for days when you are not sure when you'll be home.
[amazon text=Triple slow cooker&asin=B0719KHQRL] - Perfect for making multiple dishes at the same time. Use one for a main dish, one for a side dish and the last for dessert. Or make three types of mains at the same time to freeze down for later.
[amazon text=Tiny slow cooker&asin=B078NM8FF3] - These mini slow cookers can be used to make small batches of food. This is perfect for making things like side dishes, sauces and dips.
[amazon text=Extra large size&asin=B076KMJGJ3] - For the big family! Large slow cookers are great if you want to cook a meal for many. It's also very useful for preparing a big batch of food to freeze down. One of these can make 20 servings of chilli - ready to freeze for a month's worth of homemade lunches.
Useful extra equipment
[amazon text=Slow cooker liners&asin=B01MATK7UY]. These are completely optional to use. Crockpot liners are plastic bags that you can place inside your slow cooker. The food will then cook inside the bag, making it easier to lift the food out of the slow cooker, as well as simplifying the cleaning process.
[amazon text=Meat thermometer&asin=B07CHHL9M7]. Always use a thermometer to check that your meat has cooked all the way through. This is the only recommended method to guarantee that meat is safe to eat.
[amazon text=A timer attachment&asin=B073LH3417] - this makes using a slow cooker a lot easier if you own a variety that doesn't have a built in timer. You simply add the timer to the power outlet before plugging the slow cooker in, and it allows you to set a timer for when the slow cooker should be turned on and off. This way you can cook almost every recipe without risking overcooking it.
Slow cooking for kids
If you want to get your kids involved in cooking, the slow cooker is your best friend. It's very safe to use, as it doesn't really get very warm. It's also very forgiving, and you typically don't have to worry about food burning or spilling. Many slow cooker recipes are also of the "dump and go" variety, meaning they require little to no preparation. Many recipes also require no knife handling, making it all very safe.
Cleaning your slow cooker
All slow cookers are sold with instructions for how they can be cleaned. In general, most slow cookers have a stoneware insert which can be removed and put in the dish washer. The external bit rarely gets dirty, and can simply be wiped down after use. As such, slow cookers are quite easy to keep clean.
Using it for meat
The slow cooker is a great way to cook many cuts of meat. Chicken breasts, chicken thighs, beef, pork, gammon and lamb can all successfully be cooked. The slow cooker is particularly great for cooking tough cuts of meat, like chuck roast or brisket. The process of slowly cooking meat over a low heat will make the meat really tender, and the result is often melt-in-the-mouth, fall-apart-tender roasts.
Recipes for beginners
Browse all slow cooker recipes, or try one of these reader's favourites: