Have you ever encountered the Instant Pot burn message? There's no need to panic! In this article you will learn why this happens, how to react, and how you can prevent this from happening in the future.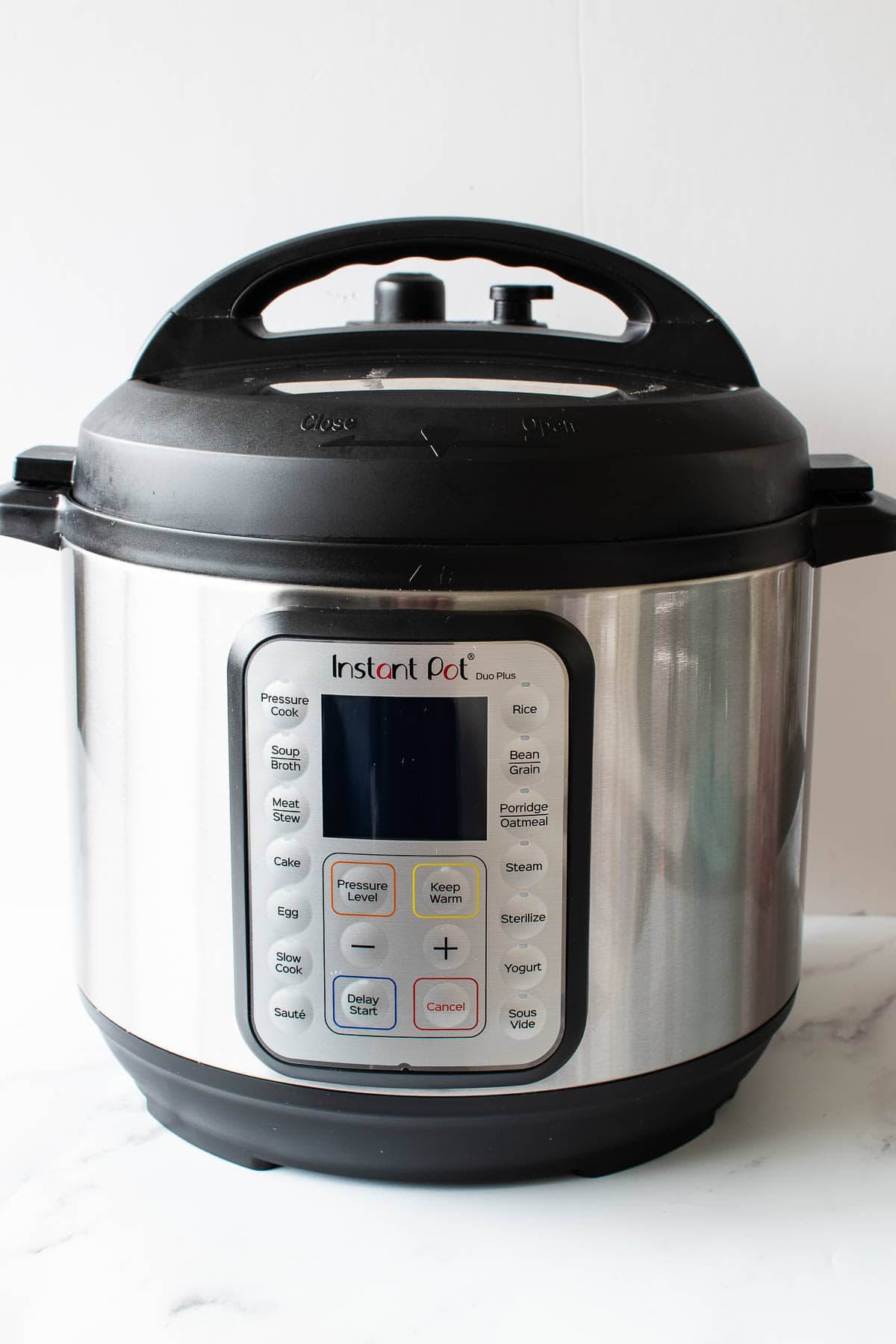 Jump to:
This post may contain affiliate links. Read more about it in the privacy policy.
Your Instant Pot is unlike any other kitchen appliance that you've ever cooked with. For few owners, it can take a while to get used to the functionalities, as well as the concept of pressure cooking. If you're new to pressure cooking, check out my guide on How to Use an Instant Pot to learn more.
Most likely, at some point, your Instant Pot will trigger its Overheat Protection. This is also known as the burn notice or burn message. Don't worry, you might still be able to save the meal!
🥘 More INSTANT POT RECIPES From Hint of Healthy
When the Instant Pot is too hot
Thankfully, your Instant Pot tends to alert you immediately if the bottom of the inner pot is so hot that the food is either burning, or likely to burn. This usually happens in two ways:
By displaying a message saying "burn" or "OvHt" (for overheating)
By alerting you with a beeping sound to draw your attention if you're not looking at the display
Why does my Instant Pot say burn?
When your Instant Pot is overheating and displaying the burn notice, this is simply a sign to inform you that the temperature at the bottom of your Instant Pot is very high.
The Instant Pot is simply giving you a hint that there could be an issue, or that your food might end up burning. This allows you to fix the problem before it gets worse.
Some dishes, like pasta, thick soups and stews, are more prone to burning. This is because the Instant Pot needs thin liquid like water or stock at the bottom of the pot to come to pressure. Creamy sauces and thick tomato based sauces are simply not fit for this purpose, and pasta tends to absorb most of the liquid in the pot.
When cooking tomato based dishes or pasta in your Instant Pot, it's important to follow recipe instructions thoroughly, and to layer your ingredients. See my Instant Pot Chili Mac and Instant Pot Chicken Pasta for examples.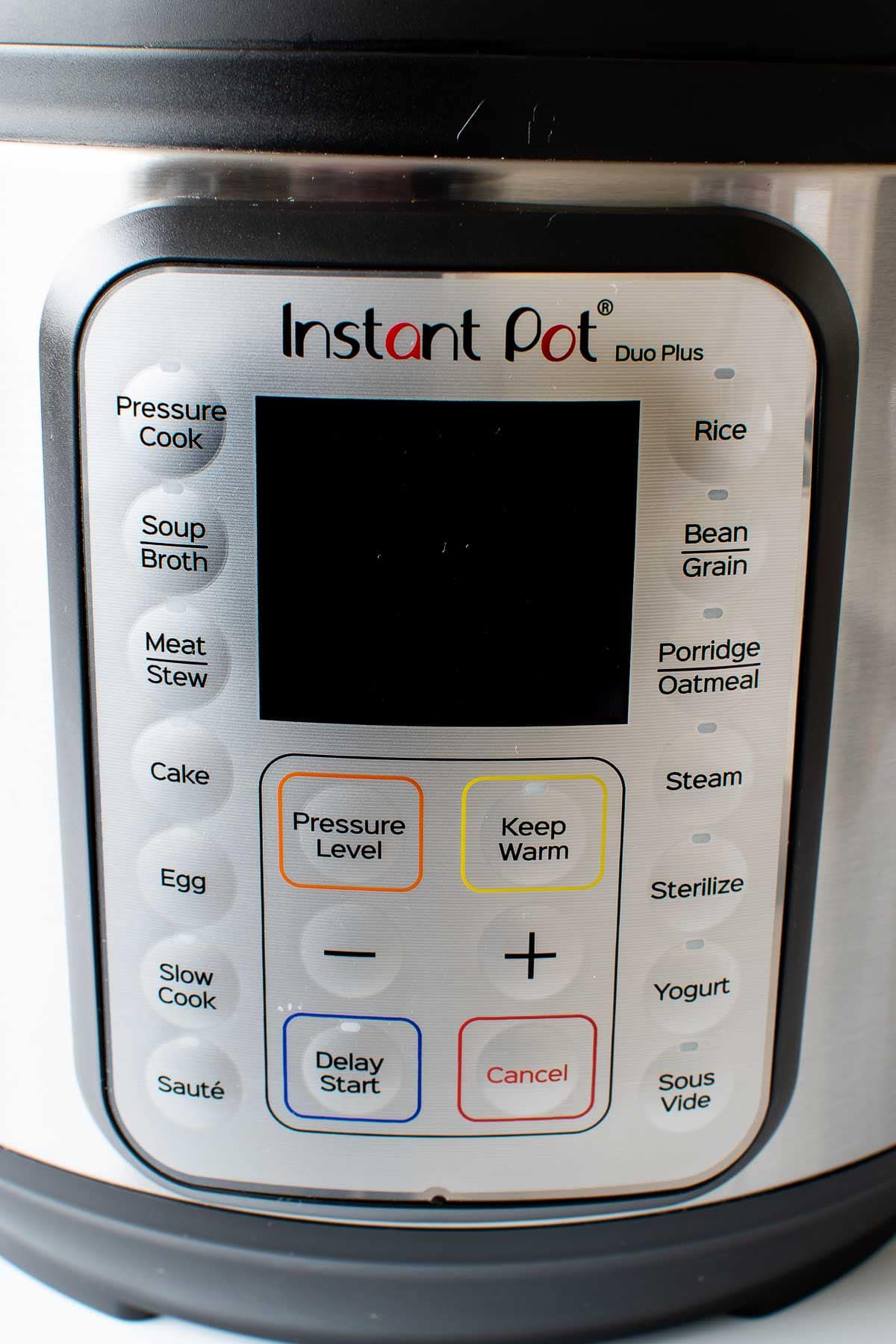 What to do if your Instant Pot is displaying the burn message
Don't panic, even though the Instant Pot says "burn", this doesn't mean that the pot is on fire. It simply means that your food could be burning. Keep calm, and do this:
Turn the Instant Pot off.
Quick release the pressure by either pressing down the venting valve button, or by turning it to the venting position.
Open the lid on the Instant Pot.
Use a wooden spoon to scrape the bottom of the Instant Pot to check if any food is stuck.
If no or little food is stuck: Scrape off the stuck pieces with a wooden spoon, then add more liquid to your dish and proceed to cook it.
If a lot of food is burnt or stuck: If there is a significant amount of stuck food at the bottom, you might be better off removing the food that's fine from the top, and placing this in a separate container. Scrape the bottom and clean out the pot, and discard any burnt food. Then, either finish cooking the dish in a pot on the stove top, or add more liquid to the Instant Pot and try again.
🥘 More INSTANT POT RECIPES From Hint of Healthy
Avoid the burn message
Here are some of my favorite tips to avoid the burn message error on the Instant Pot.
Deglaze or scrape the bottom: Many recipes start by sautéing or searing food before you pressure cook it. Make sure to deglaze the bottom of the Instant Pot by adding a little liquid, and scraping the bottom with a wooden spoon to prevent any pieces of food from being stuck before you seal the lid and pressure cook the dish.
Use enough liquid: According to the official Instant Pot page, you should add at least 1 cup of water or liquid to most recipes. Make sure that enough liquid is added to the pot by following recipes accurately.
Avoid thick sauces: Thick cream or tomato based sauces are common culprits for the Instant Pot burn notice. You can try to avoid using these ingredients, or follow the tips below.
Add some ingredients later: Try to add certain ingredients AFTER pressure cooking the dish. If you plan on adding flour to thicken the sauce, or add heavy cream, add these after you have pressure cooked the main ingredients and removed the lid.
Layer the ingredients: If you're cooking with ingredients that often cause issues, try to layer them over other ingredients. Pasta is often layered over meat and vegetables, and the same goes for tomato based sauces and rice.
Use other settings: Your Instant Pot has many settings, and each of them has a unique purpose. Try using other settings instead of sticking to the MANUAL or PRESSURE COOK setting all the time. For example, thick soups should be cooked on the SOUP setting, which prevents the Instant Pot from overheating by cooking at a lower temperature.
Lift the food up: Use the Instant Pot trivet, or any other accessories, to lift food up from the bottom of the pot. This is a great way to prevent anything from sticking to the bottom, particularly if you're cooking food in large pieces like chicken breasts, roasts or whole vegetables.
Check your sealing ring: If your sealing ring is broken, or not attached correctly, the Instant Pot might not be able to pressurize, which would result in the burn warning. Make sure to clean and attach the sealing ring according to the manufacturers instructions between uses.
Your best bet to prevent food burn is to follow recipe instructions to the point. Never skip any steps, and read carefully when the recipes direct you to layer ingredients, avoid stirring, and adding extra liquid.