Learn how to freeze bananas with this easy and useful guide. Freeze your ripe bananas to prevent food waste, or to have frozen bananas at hand ready to use in your favorite recipes!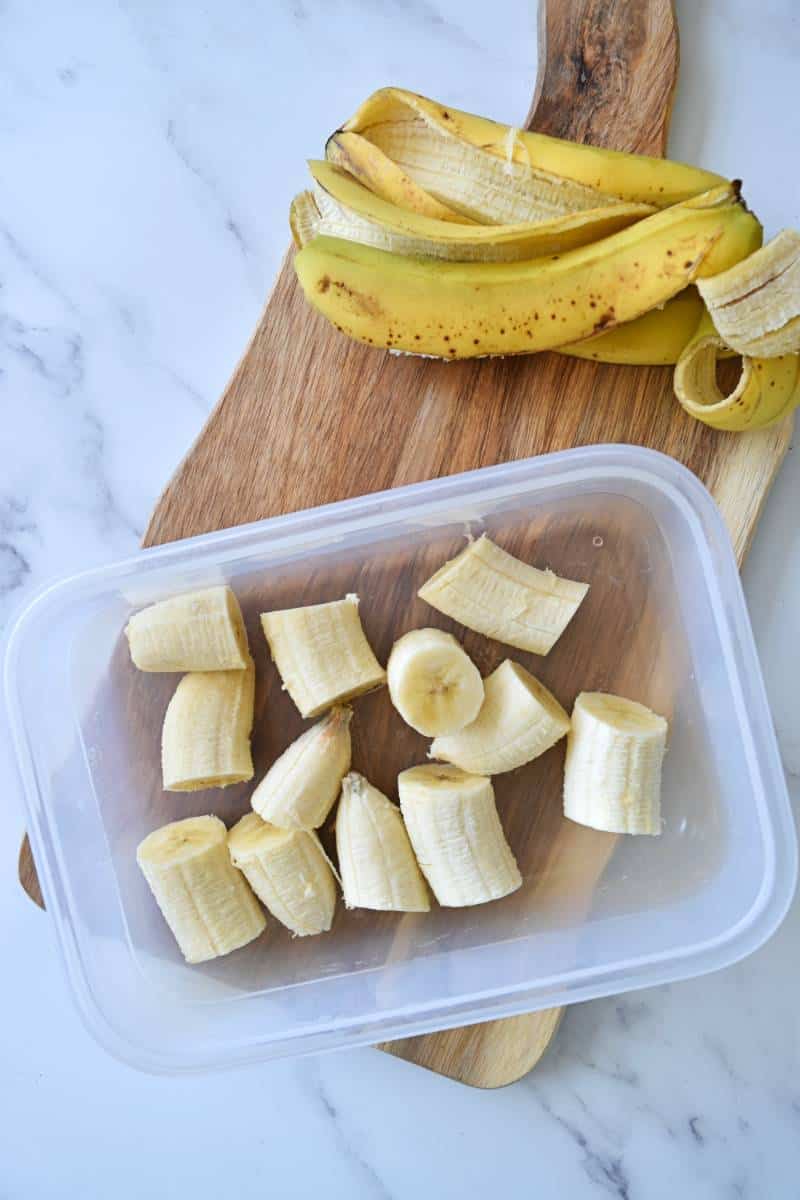 Jump to:
This post may contain affiliate links. Read more about it in the privacy policy.
It almost feels a bit silly to write a guide on how you should freeze bananas (it sounds so easy!), but I'm doing it for a good reason! My first attempt was a total disaster. I put a whole banana in the freezer, peel and all. When it was time to use the banana, I had to roll my eyes at myself when I realized that peeling a frozen banana is practically impossible. So I had to wait for it to thaw - and turn into a mush like texture - before I could remove the peels and use the fruit in my recipe.
Luckily, freezing bananas is actually quite easy as long as you know what to do - and what not to do.
💡 Why you should freeze bananas
Freezing bananas is a great way to preserve them and make them last longer, especially if they are starting to turn brown and go off.
It's primarily a great way to prevent food waste, but certain recipes also call specifically for the use of frozen bananas. You will often see this with chilled recipes such as smoothies or certain banana desserts such as chocolate covered banana bites.
📋 Which bananas can you freeze
The key takeaway is this: you should only freeze ripe bananas.
Technically you can of course put an unripe banana in the freezer, however this will stop the ripening process of the fruit. Unripe bananas are more starchy and less sweet. Using them in frozen banana recipes, such as baked goods, smoothies or other sweets, will often not give the same results. Also, they just don't taste as nice as when they are ripe.
Bananas are perfect for freezing when they are yellow, not green, and ideally have at least some black or brown spots all over. You can also successfully freeze bananas that are on the brink of overripe, with many black spots on the skin.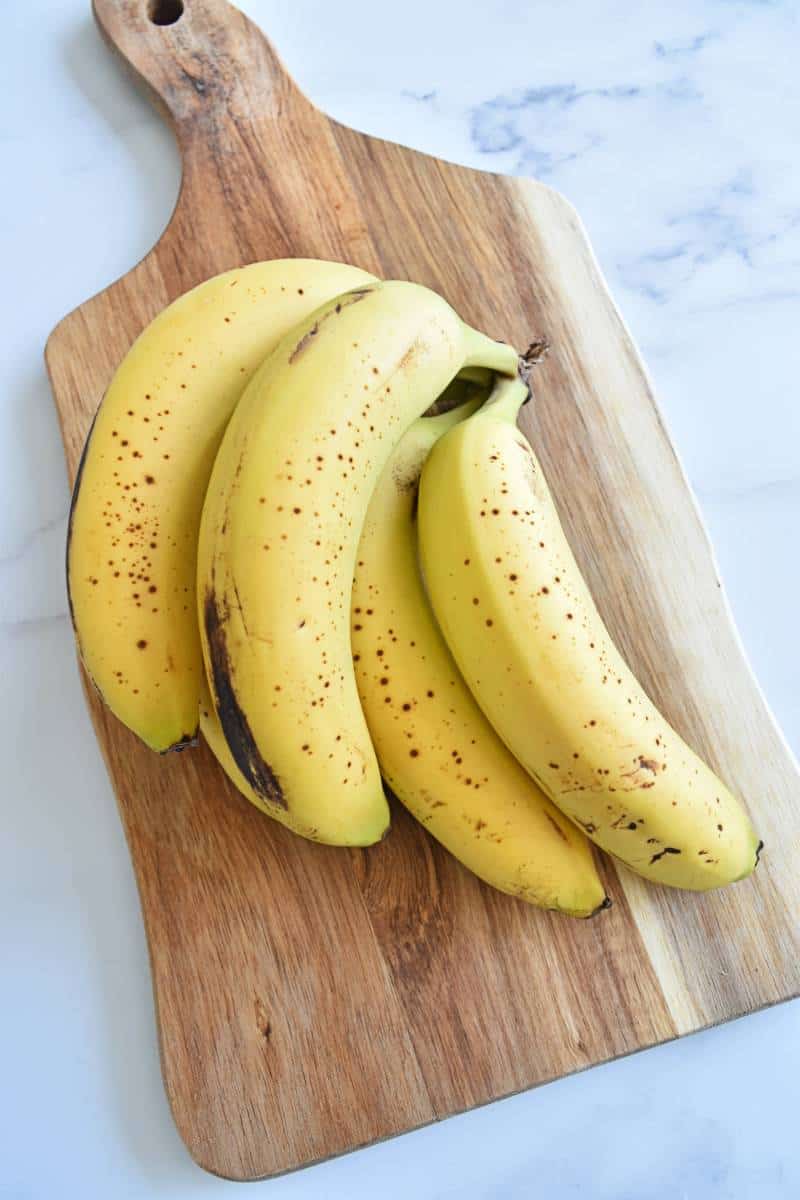 🔪 How to freeze bananas
Okay, let's get straight into the actual process:
1. Peel the bananas. Freeze them with the peels off, as peeling a frozen banana is exactly as hard as it sounds.
2. Slice the bananas. As using a whole frozen banana can be tricky (imagine how much your blender would struggle!), I like to slice them in smaller chunks. I always cut my bananas in exactly 4 pieces. This way I know for sure that if I grab any 4 pieces of banana from my freezer, it amounts to 1 whole banana. Super easy to follow recipes!
3. Freeze the bananas. Add the banana pieces to a freezer safe zip loc bag or storage container and place them in the freezer. I find that by slicing each banana in 4 pieces, each chunk is large enough to freeze separately, and you won't struggle to break them apart from each other when you need to grab some to use.
I keep a container of frozen bananas in the fridge, which I simply add to every time I have bananas to use up.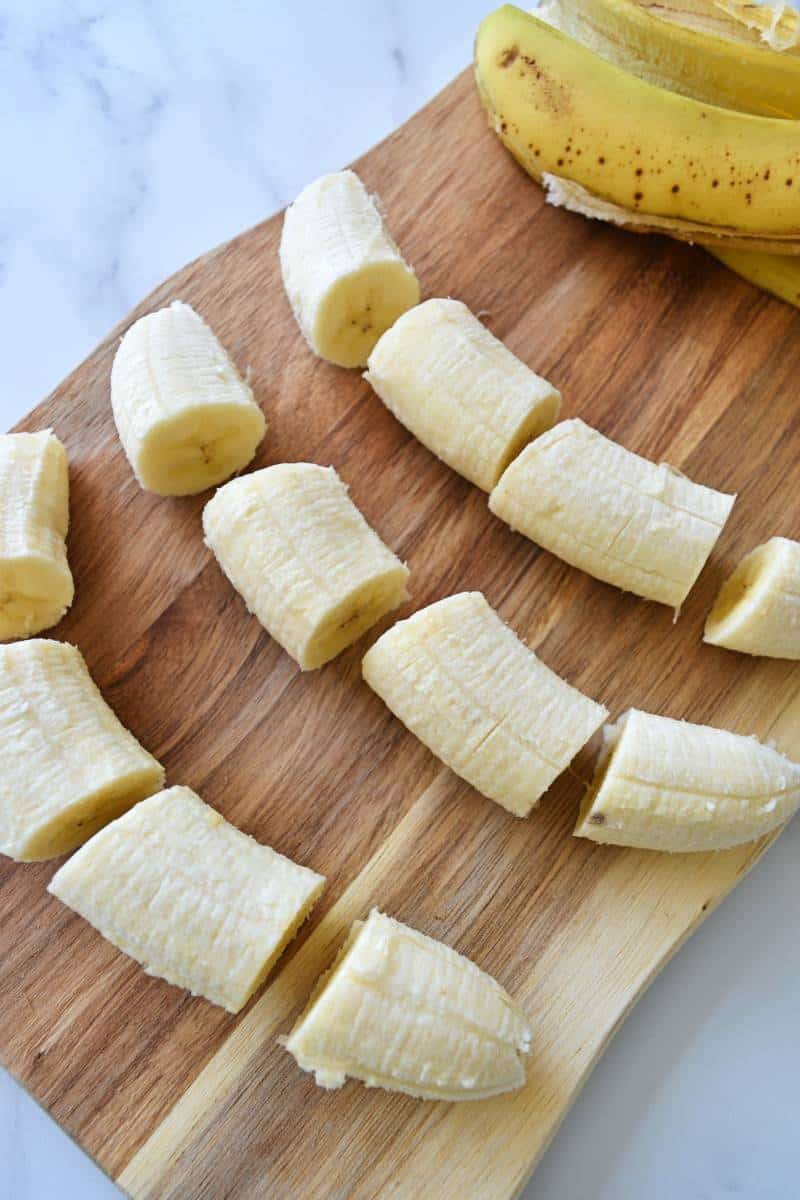 🍌 What to make with frozen bananas
Frozen bananas are versatile and have many uses. Here are some of my most popular recipes that can all be made with frozen bananas!
🍴 You might also like these recipes..
If you love easy guides, you should check out any of these:
📋 Frequently asked questions
Can I freeze brown bananas? - As long as the bananas have not gone off and are safe to eat, you can freeze them. Don't freeze bananas if they have started to form mold or other symptoms of being ready to be thrown in the garbage.
What does a thawed banana look like? - Okay, let's be real. There's no way you can grab a banana from the freezer, let it thaw, then eat it like a regular banana. Thawed bananas tend to be very soft, and can even turn into mashed bananas. Frozen bananas can be used in many different ways, but if you thaw them, they are only good to used in things like baked goods where you would use mashed bananas anyway.
Can I re-freeze a banana after thawing it? - No. Doing this could potentially create harmful bacteria in the bananas and give you food poisoning.
Recipe