This simple brine for chicken wings will help you make perfect juicy, tender chicken wings with minimal effort.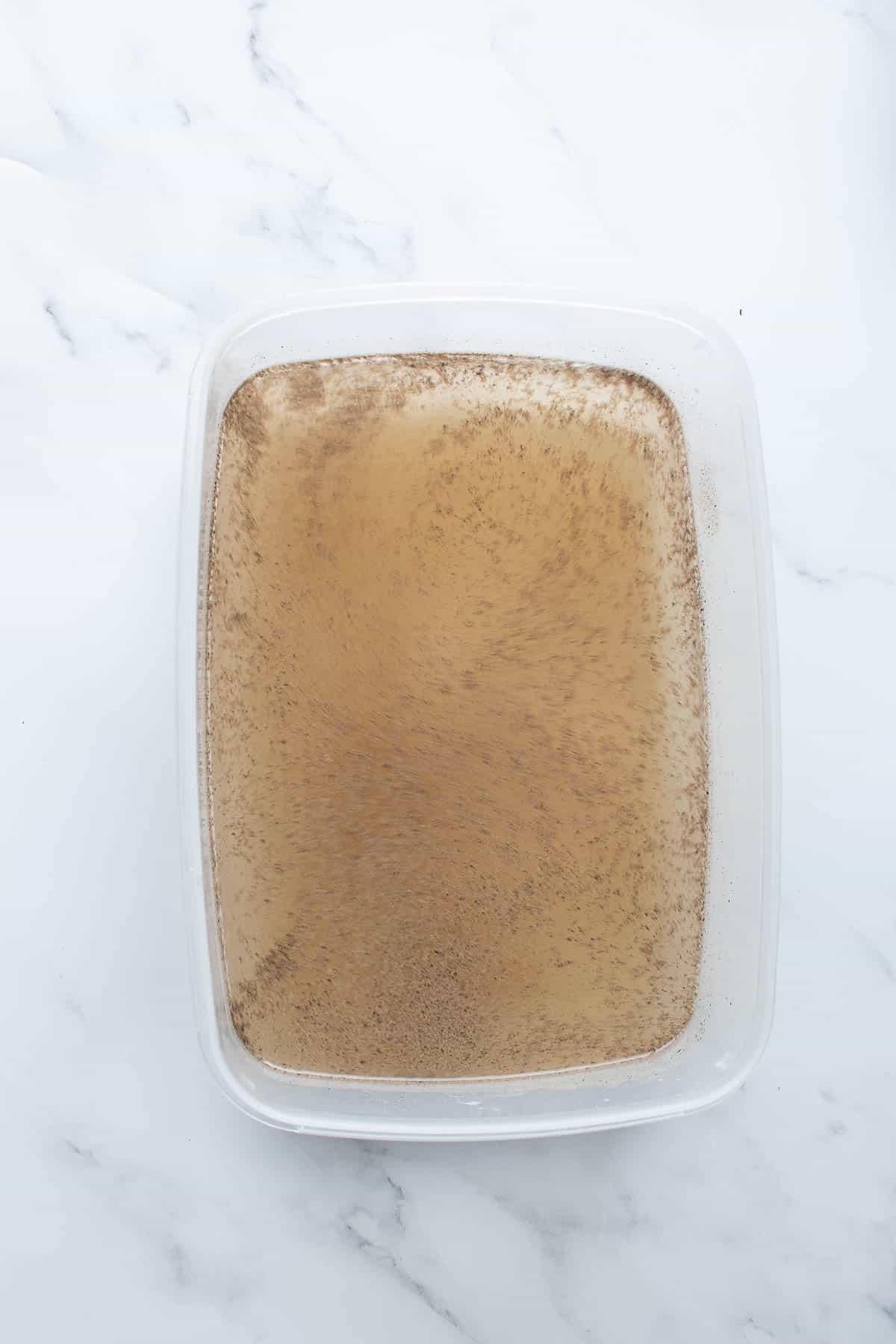 Jump to:
This post may contain affiliate links. Read more about it in the privacy policy.
What is brine?
Brine consists of water, vinegar, salt and sugar, and has multiple culinary uses. It can be used as a preservative for some foods such as pickles.
When meat is brined, the liquid will encourage the proteins in the meat to break down. As a result, the meat is much more tender.
Brining is most commonly used on turkey and chicken, as these lean meats contain little fat and can often be quite dry.
Why you should brine chicken wings
It's really easy to do
It adds a great flavor to the wings
The meat becomes extra tender and juicy
Brining can save extra dry cuts of chicken
The method works regardless of which recipe you use
Works for baked, fried and grilled chicken wings
You can also brine chicken before you marinate it
Brine vs marinade
So what is the difference between brine and marinade? Well, there are mainly three differences.
Firstly, a marinade contains a lot of flavorful seasoning, while a brine is very simple and mainly consists of vinegar, salt, sugar and water.
Secondly, marinades are usually much thicker, to ensure that the flavor doesn't simply drip off the chicken.
And thirdly, meat is typically marinated with a small amount of sauce, whereas if you use a brine, the meat should be completely submerged in the liquid.
Ingredients
To make this brine, you will need water, salt, pepper, sugar and white wine vinegar.
Brine contains a very large amount of sugar and salt, however keep in mind that the liquid is discarded after use, and you will therefore not actually consume the majority of it.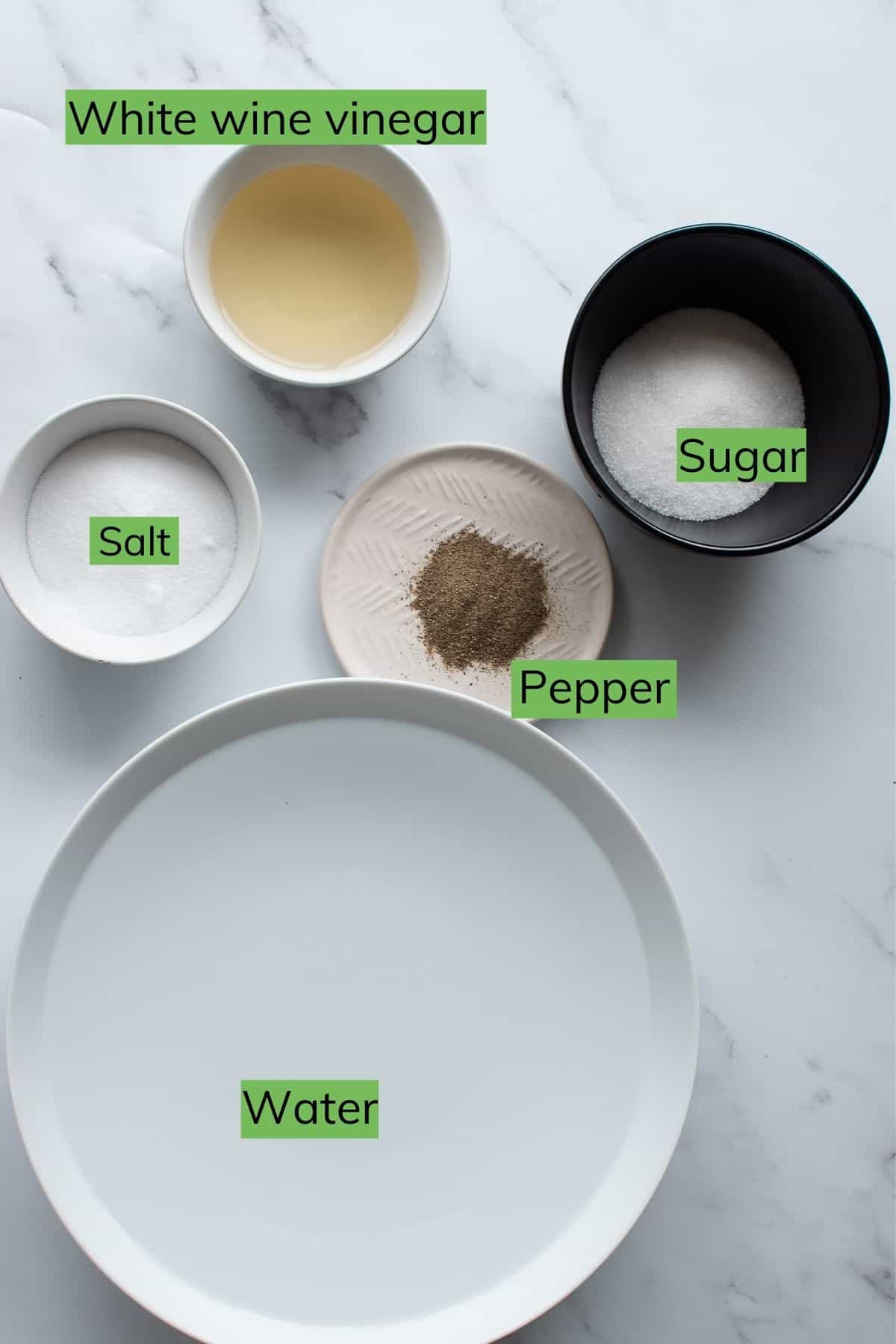 Instructions
Make the brine: Combine the water, vinegar, salt, pepper and sugar in a container. Stir until completely dissolved.
Brine the chicken: Add the chicken wings to the brine, and make sure to submerge every piece completely. Store in a refrigerator for 2-24 hours.
Cook the chicken: Discard the brining liquid. Use your favorite method or recipe to cook the wings the way you like them.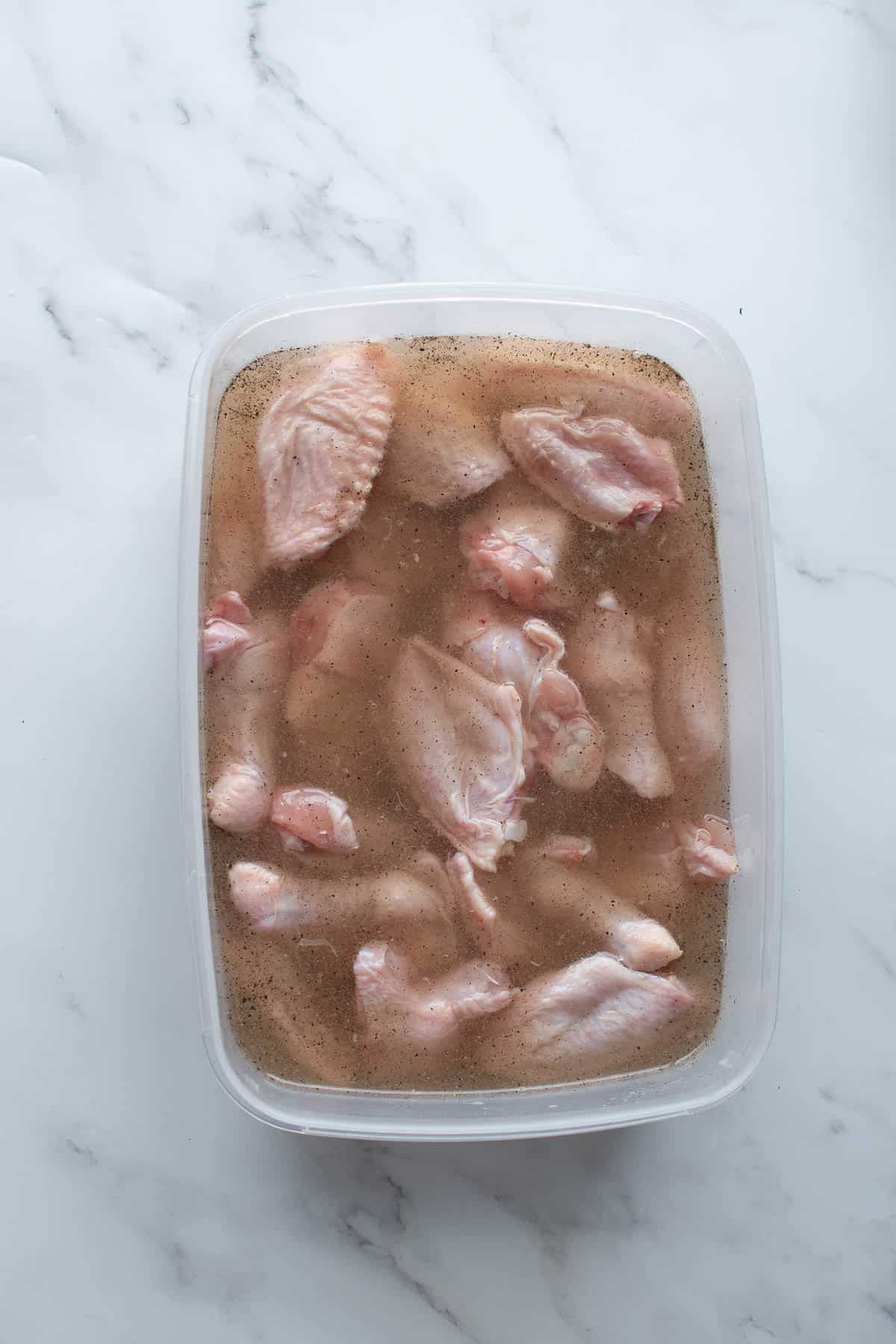 Browse my collection of chicken wing recipes for some tasty recipe ideas.
How much brine do you need?
This recipe makes enough brine for up to 2 pounds of chicken wings, or around 30 wing pieces.
When brining meat, it's really important to use enough liquid for all the wings to be completely submerged. If you want to brine a larger amount of wings, you can multiply the recipe.
Chicken wing recipes
💡 TIP! Discard the liquid after the wings have been brined. It cannot be re-used.
Frequently asked questions
Is it worth brining chicken wings?
Although brining chicken wing is not necessary, it results in more juicy, tender and flavorful meat. If you have the time to brine wings, it is definitely worth it.
Can you brine chicken for more than 24 hours?
No, I would not recommend brining chicken for over 24 hours. If you do this, the chicken will absorb a lot of salt, and the result could be really salty chicken wings.
You might also like these recipes
If you make this recipe, make sure to post a photo to Instagram with #hintofhealthy!
Recipe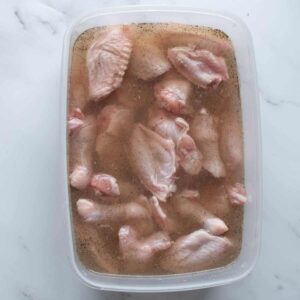 Brine for Chicken Wings
This easy brine for chicken wings will help you make perfect juicy and tender chicken wings every time!
Instructions
Combine all ingredients in a bowl or container.

Add the chicken wings to the brine, and make sure that the meat is completely submerged.

Cover the container, and place it in a refrigerator for 2-24 hours.

Drain the brined chicken, and discard the liquid. Cook the chicken wings using your favorite recipe.
Notes
As the majority of the brine is discarded, and not actually absorbed into the chicken, the nutritional information will not accurately represent the amount you consume.
Nutrition
Calories:
7
kcal
Carbohydrates:
2
g
Protein:
1
g
Fat:
1
g
Saturated Fat:
1
g
Sodium:
945
mg
Potassium:
4
mg
Fiber:
1
g
Sugar:
2
g
Vitamin A:
1
IU
Vitamin C:
1
mg
Calcium:
2
mg
Iron:
1
mg