This healthy Instant Pot vegetable beef soup is perfect for quick and easy weeknight dinners. A comforting soup with diced beef and vegetables is perfect for any time of the year.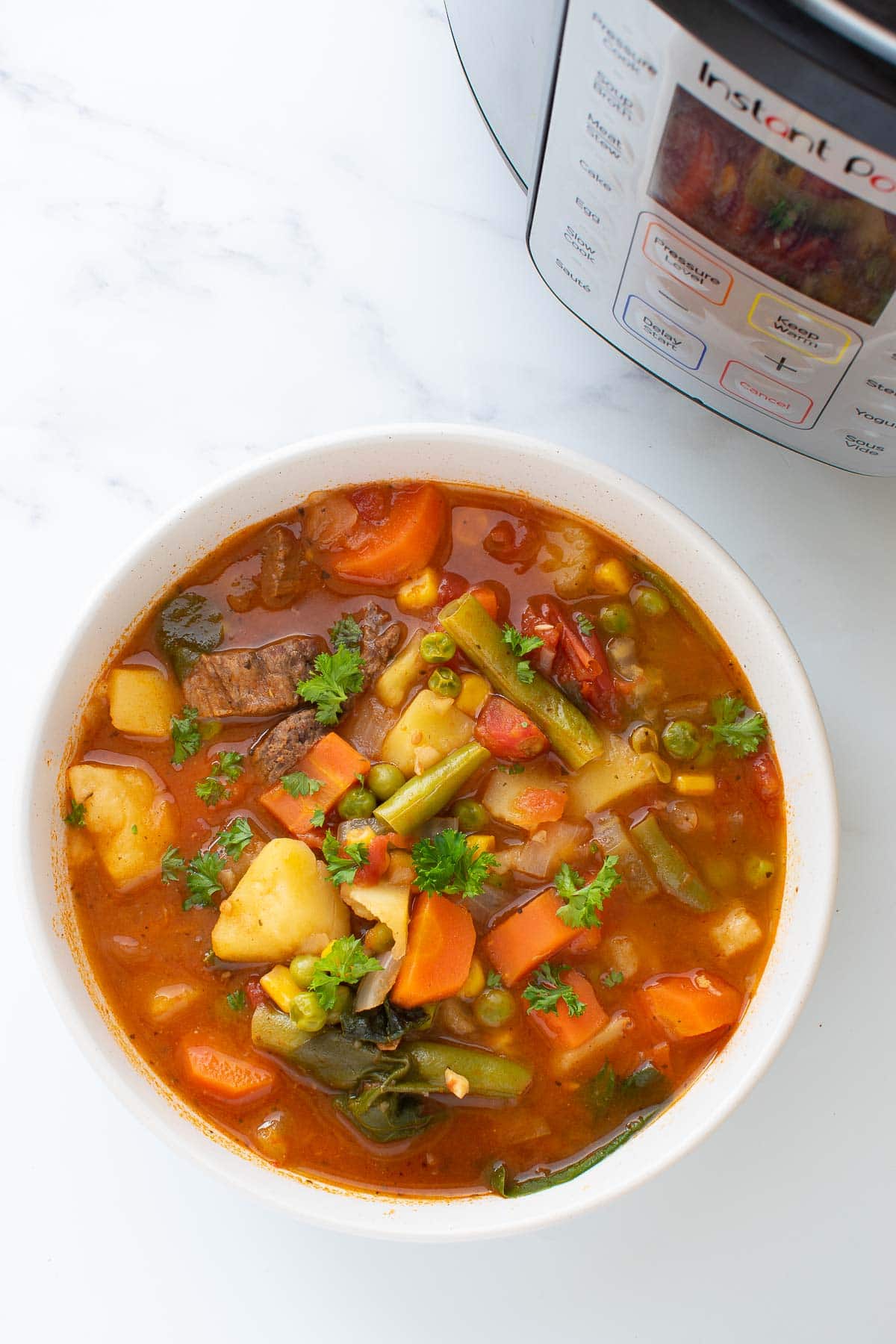 Jump to:
This post may contain affiliate links. Read more about it in the privacy policy.
If you're looking for an easy beef soup recipe that you can make in the Instant Pot, this is the one. This Instant Pot beef vegetable soup is a great base recipe that you can adjust and customize to suit your preferences, and it's become one of my staple recipes at home.
The soup is made in only 30 minutes (or 20 minutes cook time), making it perfect for quick and easy weeknight dinners. As the soup stores well, this recipe is also perfect for meal prep.
Why you'll love it
Healthy and nutritious dish
Easy to customize - use your favorite vegetables or what you have at hand
Stores really well in a refrigerator or freezer
Make a big batch of soup in one pot
Perfect for lunch or dinner
Made with very little effort
An excellent comforting soup
Only takes 30 minutes
Uses inexpensive and easily available ingredients
🥘 More INSTANT POT RECIPES From Hint of Healthy
Ingredients
Beef chunks: You can buy beef chunks, often known as stew beef or diced beef in most major supermarkets. You can also simply buy a beef roast or steaks, and dice it into bite sized cubes. Since the meat is pressure cooked, you will get excellent results using any cut of beef, including the cheaper cuts.
Corn + peas: These can either be canned or frozen. If you're using the canned version, make sure to drain and rinse them first. I prefer to use frozen corn and peas, as they are much fresher and have better texture.
Vegetables: In this recipe I use a combination of carrots, potatoes, celery, spinach, and green beans. These can easily be omitted or substituted based on your preferences. This is a great recipe to use whichever veggies you can find at the back of your fridge.
Beef broth: This is the base liquid of the soup. You can also use vegetable stock or chicken broth - anything works. I often use a beef stock cube and water.
Canned diced tomatoes + tomato paste: This combination gives the soup a fantastic tomato base, and adds so much flavor to the dish.
Garlic + onion: Add a lot of flavor to the soup.
Seasoning: We use salt, pepper, garlic powder and Italian seasoning, but you can honestly use whichever herbs or spices that you want. Feel free to substitute the Italian seasoning with a combination of any dried herbs, like oregano, basil or parsley.
💡 TIP! You can also make this soup using ground beef, ground turkey, diced chicken or any other protein you have on hand.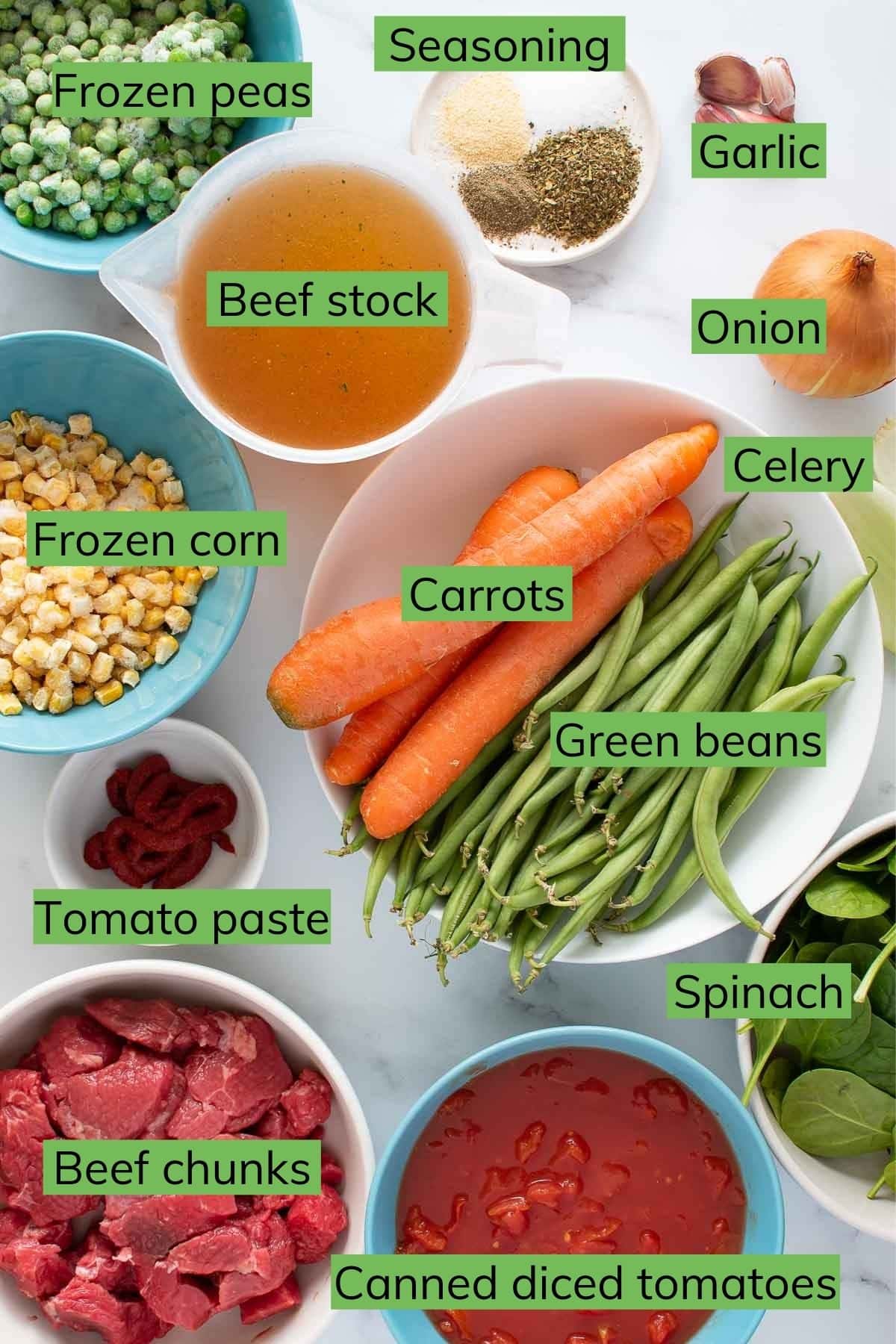 Instructions
See the recipe card at the bottom of this page for full detailed instructions and ingredients
This recipe is really easy to make, and only has a few steps.
First, you want to sear the diced beef in a little oil and seasoning on the SAUTE setting. When you brown the beef first, it will have a much better flavor and texture compared to pressure cooking it raw.
Add the tomato paste and diced onion and garlic, and saute these as well for about a minute before adding canned diced tomatoes, beef broth and all diced hard vegetables.
Pressure cook the soup for 8 minutes, then quick release the pressure.
The softer vegetables are added after pressure cooking. This prevents them from becoming mushy, as they only need a minute or two of cooking. Simmer the soup for a minute or two until these veggies have softened, and the soup is ready to eat!
💡 TIP! If you're using any canned or precooked vegetables, you should add these towards the end of the cooking time. This will prevent them from being soggy.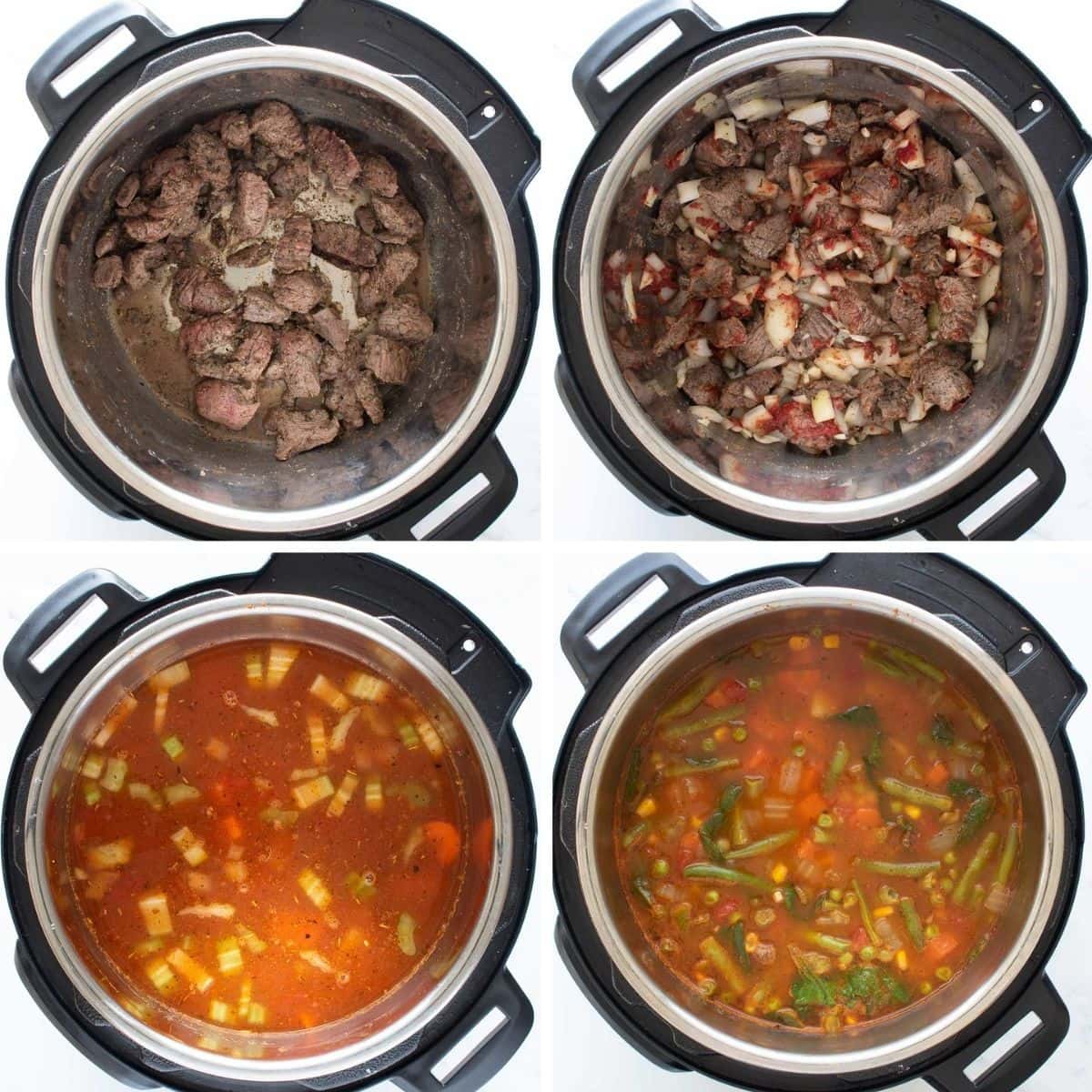 Top tips
Make sure to dice your vegetables into bite sized pieces. This also includes your green beans.
All veggies should be washed before use to remove dirt and debris.
Feel free to omit any vegetables you don't like, and add any extra vegetables that you happen to have at hand.
If you want to bulk out the soup, you can add some cooked rice or pasta before serving. This makes the soup more filling, and will give you more servings of soup from one batch.
Make sure to scrape the bottom of the pot thoroughly before you seal the lid and start the pressure cooking process. If anything is stuck to the bottom of the pot, your pressure cooker simply won't come to pressure.
Serving suggestions
This beef and vegetable soup is best served as a main course for lunch or dinner. It's a healthy, filling and satisfying meal on its own, and doesn't really require any side dishes.
If you prefer to serve it with a side however, I recommend pouring the soup over some cooked pasta or rice to make it more filling, or serving it with some toasted bread, garlic bread or dinner rolls.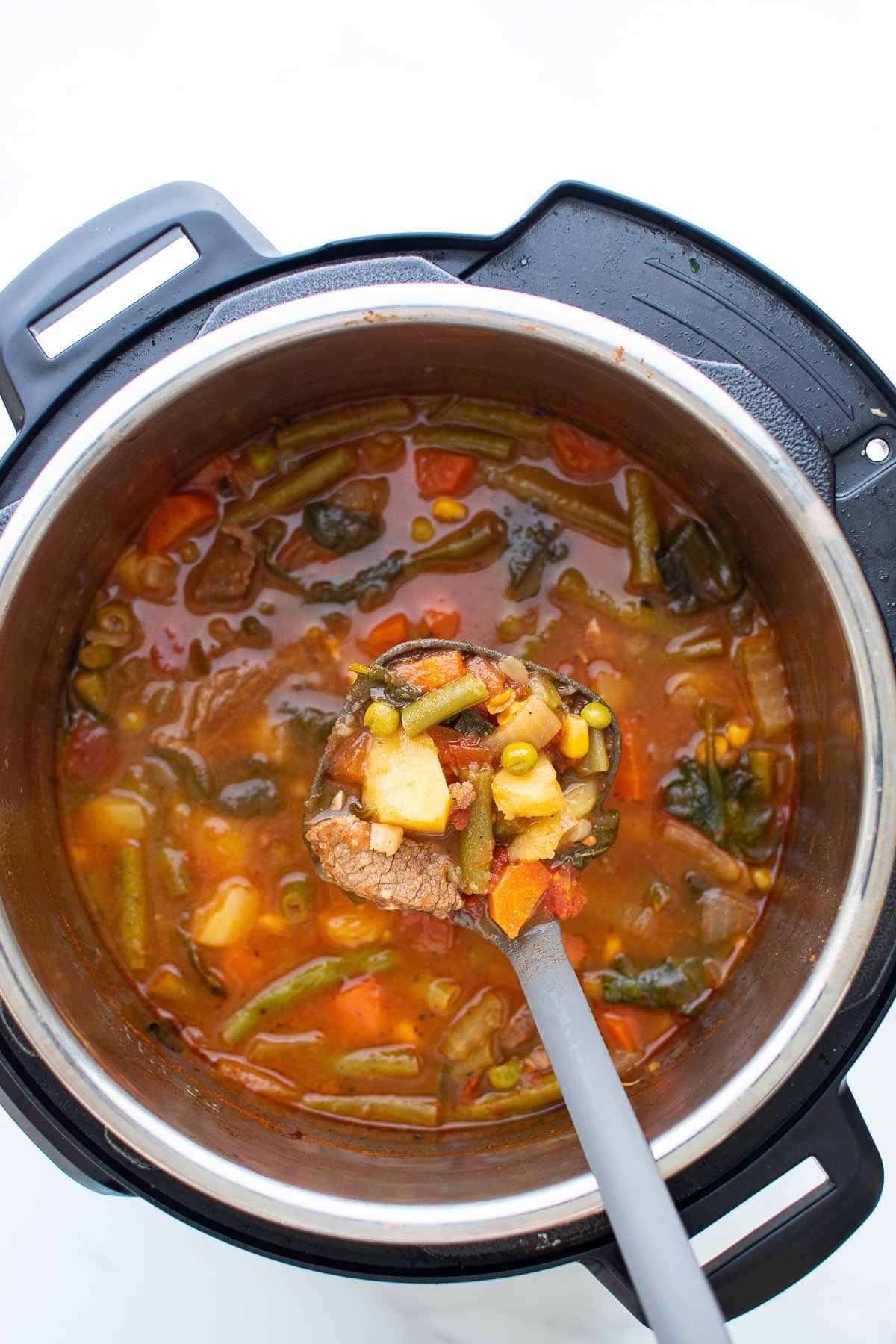 Variations
With carbs: Add some pasta or rice to your soup. This makes the dish more filling, and you will get more serving out of each batch of soup. I like to cook the rice and pasta separately, and just add it to each individual bowl of soup. This way, everyone can add the amount they want, and you don't have to worry about them overcooking or absorbing too much liquid.
More liquid: If you want a more liquid soup, you can add more beef stock. I like a chunky soup, but you can always add liquid to taste when the soup has finished cooking.
Spicy vegetable soup: To make your soup spicy, you can add fresh chili or red pepper flakes along with the onions and tomato paste.
Vegetarian: For a veggie version, replace the beef cubes with any kind of beans, or simply omit the beef and serve the soup over hearty grains like brown rice or lentils.
Other vegetables: Feel free to substitute or add any vegetables that you like. Firm vegetables, like sweet potatoes, cabbage, parsnips or mushrooms, can be added along with the carrots. Soft vegetables, like broccoli, cauliflower, kale, frozen green beans and peppers can be added along with the green beans and peas.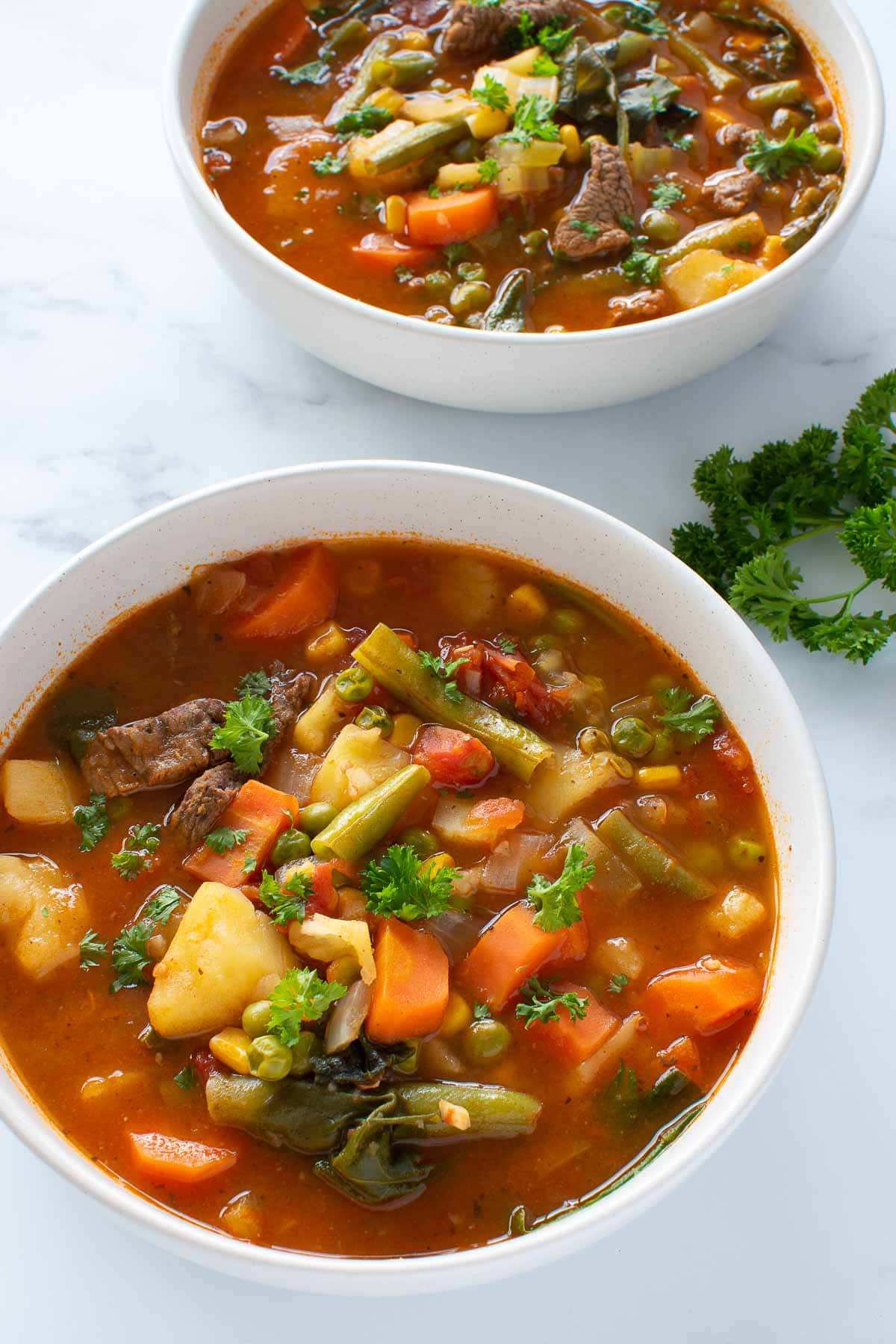 Leftovers
Leftover beef and vegetable soup can be stored in a refrigerator for up to 4 days, or frozen for up to 6 months.
Thaw and defrost frozen soup in a refrigerator overnight, and reheat the soup in a microwave, Instant Pot or in a pot on the stove top, and serve it warm.
This soup is perfect for meal prep, and is a great make ahead meal. I love to store a batch of Instant Pot vegetable beef soup in my freezer for quick and easy future meal on busy days.
Frequently asked questions
How do you make soup with the Soup setting on the Instant Pot?
If your Instant Pot has a soup setting, this is a great tool that allows you to pressure cook creamy soups without burning them. Simply use the soup setting for the amount of time that the recipe suggests. This setting is not necessary when cooking broth based soups, as these can be cooked using the normal pressure cook setting.

How much liquid do you put in an Instant Pot for soup?
The official Instant Pot instructions tell you to add at least 1 cup of water for the Instant Pot to come to pressure. In most soup recipes, you will want to add more to give the soup the right texture.
Do you have to sauté beef before pressure cooking?
No, you definitely don't have to sauté beef first, but it's often recommended as it gives the beef a lot more flavor and a better texture.
Can you leave an Instant Pot full of soup out overnight?
No, I would not recommend leaving the soup out. You can leave the soup on the KEEP WARM setting for a few hours, but as soon as the soup has cooled down to room temperature, it should be stored in a refrigerator or freezer.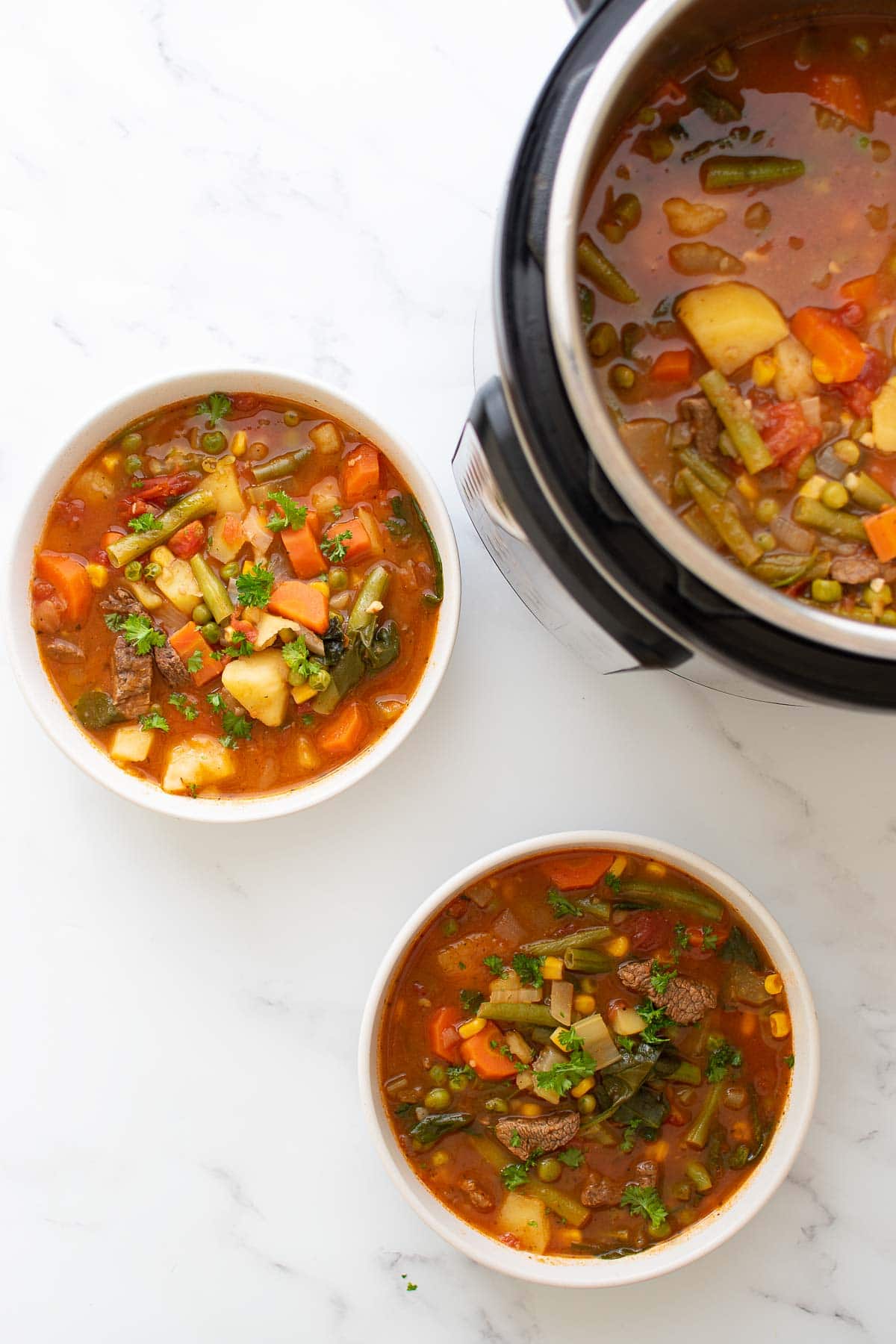 🥘 More INSTANT POT RECIPES From Hint of Healthy
You might also like these recipes
If you make this recipe, make sure to post a photo to Instagram with #hintofhealthy!
Recipe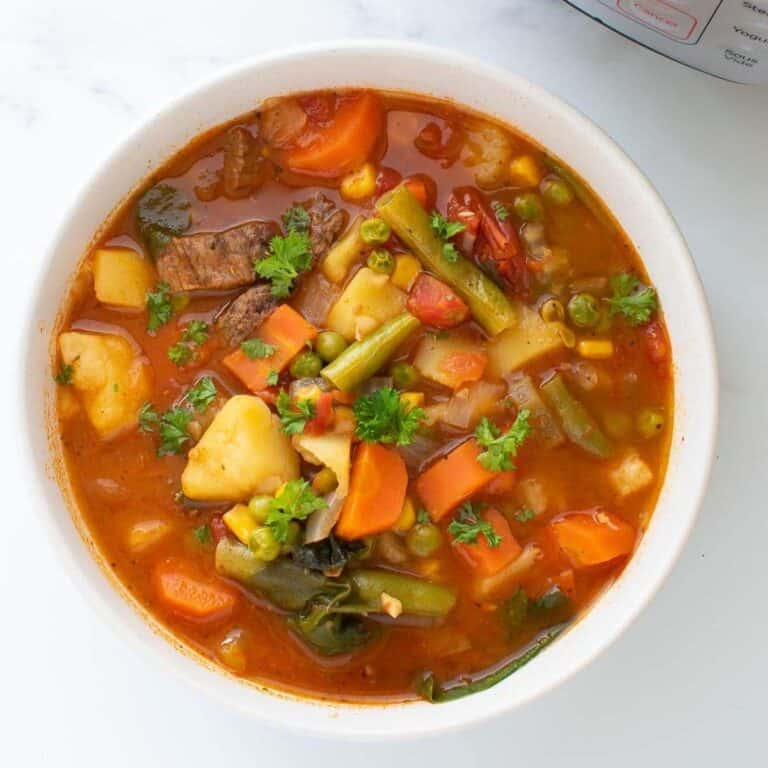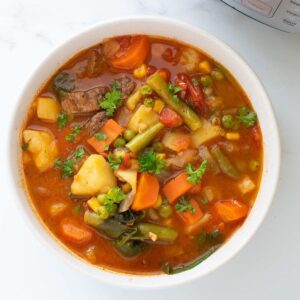 Instant Pot Vegetable Beef Soup
This healthy Instant Pot vegetable beef soup is an easy soup you can make in only 30 minutes. Perfect for simple weeknight dinners, or make ahead meals.
Ingredients
1

pound

diced beef

(sometimes called stew beef)

1

(14 oz) can

diced tomatoes

3

medium

carrots

2

celery sticks

4

cups

beef stock

1

cup

frozen peas

1

cup

frozen corn

2

cups

sliced green beans

2

large

potatoes

2

cups

spinach

1

onion

1

tablespoon

tomato paste

(tomato puree)

3

garlic cloves

1

teaspoon

vegetable oil

1

teaspoon

Italian seasoning

½

teaspoon

garlic powder

¼

teaspoon

salt

¼

teaspoon

black pepper
Instructions
Peel and dice carrots and potatoes into bite sized pieces.

Wash and dice celery and onion, and grate or finely dice garlic.

Heat up vegetable oil in an Instant Pot on SAUTE setting. Add diced beef, salt and pepper, and sear the beef for a few minutes until it's browned on all sides. The beef does not have to be cooked through completely, just on the surface.

Add diced onion, garlic, tomato paste, garlic powder and Italian seasoning to the Instant Pot, and saute for another 2-3 minutes, or until the onion is soft and translucent.

Turn off the SAUTE setting. Add canned diced tomatoes, beef broth, diced carrots, potatoes and celery, and stir to combine the ingredients.

IMPORTANT: Use a wooden spoon to scrape the bottom of the Instant Pot to ensure that no pieces of onion or beef are stuck to it. If anything is stuck to the bottom of the pot, the pressure cooked will not be able to get to pressure.

Seal the lid on the Instant Pot, and turn on the PRESSURE COOK or MANUAL setting on high pressure for 8 minutes. The Instant Pot will take about 5-10 minutes to reach pressure before the timer starts counting down.

When the timer is up, quick release the pressure following the manufacturers instructions, and remove the lid from the pot.

Add green beans cut into smaller pieces, frozen peas and frozen corn. Turn on the SAUTE setting, and allow the soup to simmer for 1-3 minutes, or until the green beans have softened.

Then, add washed spinach to the soup. Stir the leaves into the soup to allow them to wilt.

Add any extra salt or pepper to taste, and serve.
Notes
This recipe has only been tested with a 6 qt Instant Pot.
If you are substituting any vegetables, I recommend adding hard vegetables before pressure cooking, and soft vegetables after pressure cooking.
Leftovers: Store leftovers in a refrigerator for up to 4 days, or freeze for up to 6 months. Reheat before serving.
Nutrition
Calories:
327
kcal
Carbohydrates:
45
g
Protein:
27
g
Fat:
5
g
Saturated Fat:
2
g
Cholesterol:
47
mg
Sodium:
523
mg
Potassium:
1603
mg
Fiber:
9
g
Sugar:
8
g
Vitamin A:
6819
IU
Vitamin C:
53
mg
Calcium:
113
mg
Iron:
5
mg