Strawberry cream cheese parfait with bananas and crunchy nuts. This is such a quick and easy dessert that you can make ahead or put together in five minutes. I also think it works well as a "special treat" breakfast. It can be difficult to think of sugar free desserts, but cream cheese and fruit has your back. I personally love any dessert with fruits in it. It's particularly great after a large family meal when you just want something light and sweet. And who can resist those perfect red, sweet strawberries?!
What you need to make an amazing strawberry cream cheese parfait:
Bananas
Strawberries
Cream cheese
Nuts
It's very simple, very easy, and it's super quick to make. Perfect for a snack or entertaining.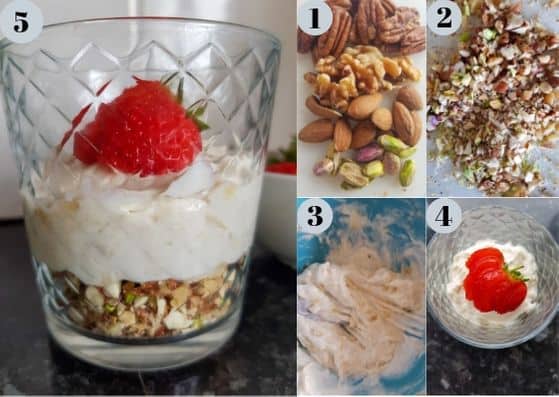 This is essentially a deconstructed, quick version of a strawberry cheesecake. Cheesecake is my favorite type of cake, but unfortunately they are often full of sugar and heavy cream. This parfait recipe removes all of that, but still keeps that lovely cheesecake flavor. I also like the idea of making desserts in portion cups like these because you don't have the option of cutting a massive slice, or going in for seconds. It's all about portion control! I also like the fact that I easily can make one or two servings of this dessert, which is ideal if I'm cooking for myself and my partner. Has anyone else ever made a cake for dessert as a Sunday treat, and then ended up leftover eating cake every day for a week?
I love the mixed nuts, and you can just use whatever you have at hand. I always keep a well stacked nut collection as I eat quite a lot of them, but this would also taste great with granola or some toasted muesli instead.
Recipe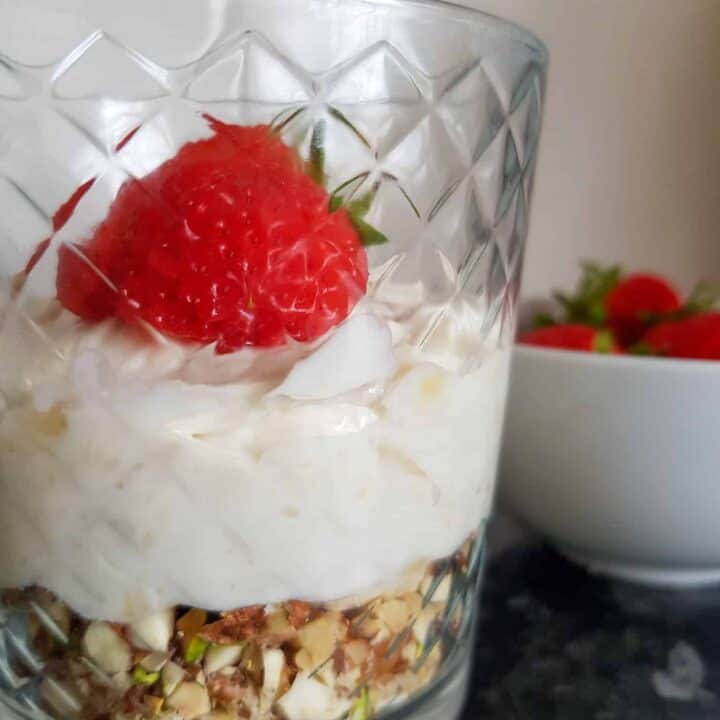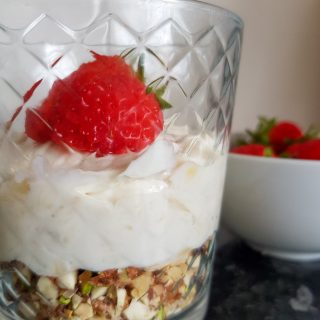 Strawberry cream cheese parfait
Super easy parfait with mixed nuts, cream cheese, strawberries and banana. No special equipment needed! This works well as a dessert, or as a Sunday breakfast.
Ingredients
2

bananas

180

g

cream cheese (spreadable)

8

tablespoon

finely chopped mixed nuts

strawberries
Instructions
Mash two bananas with a fork or in a food processor

Add the cream cheese and combine. For a smooth result, use a food processor, as there will be a few chunks of banana if you do it by hand. I perfer the chunks!

Use pre chopped nuts, or finely chop a mix of nuts. I used walnuts, pecans, almonds and pistachios.

In four glasses, layer the nuts, then cream cheese and banana mixture, then place sliced strawberries on top.
Notes
If you need to increase or decrease the number of servings, use half a banana and a large tablespoon cream cheese per portion.
Make it nut free 
Replace the nuts with a nut free granola of your choice.
Make it vegan and diary free
Use vegan cream cheese if you want to keep the dairy away.
Nutrition