This creamy, warming and comforting spicy butternut squash soup is absolutely perfect for a healthy autumn dinner.
Autumn if officially here, and I am all over it. I absolutely love soups, and have shared some of my favorites like my Slow cooker broccoli cheddar soup and this Bacon and lentil soup. But if I had to choose one soup to be the only soup I could eat for the rest of my life, it would be this one. Butternut squash has this amazing texture, and a creaminess you could never replicate with any form of dairy. The color is amazing. The flavor is perfect. And with this added touch of spice from the chili, it's the ultimate autumn comfort soup.
This post may contain affiliate links. Read more about it in the privacy policy.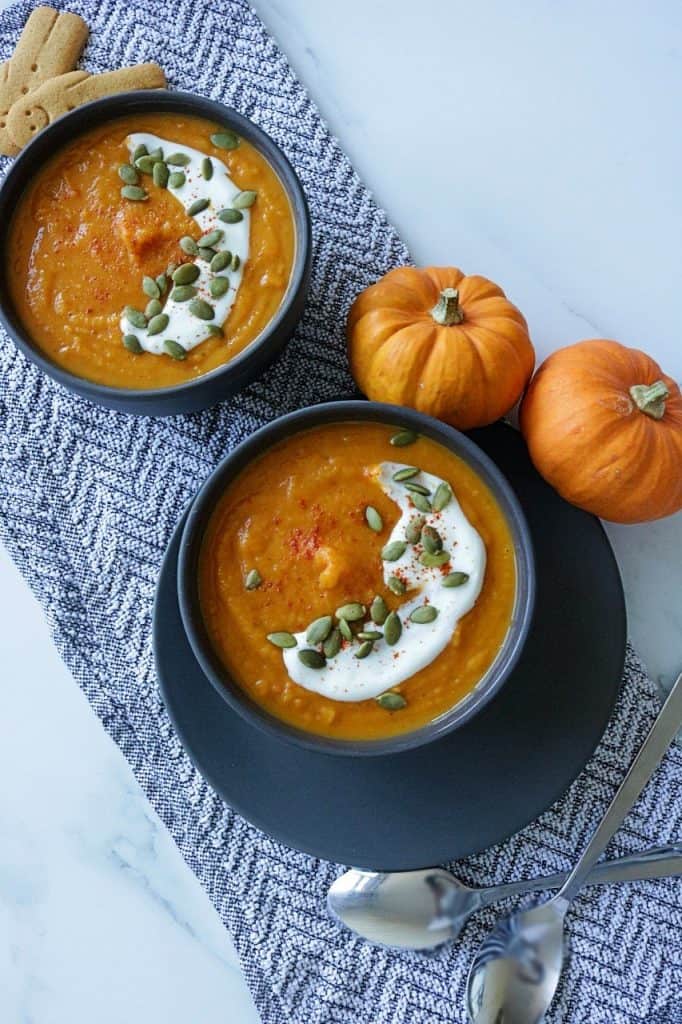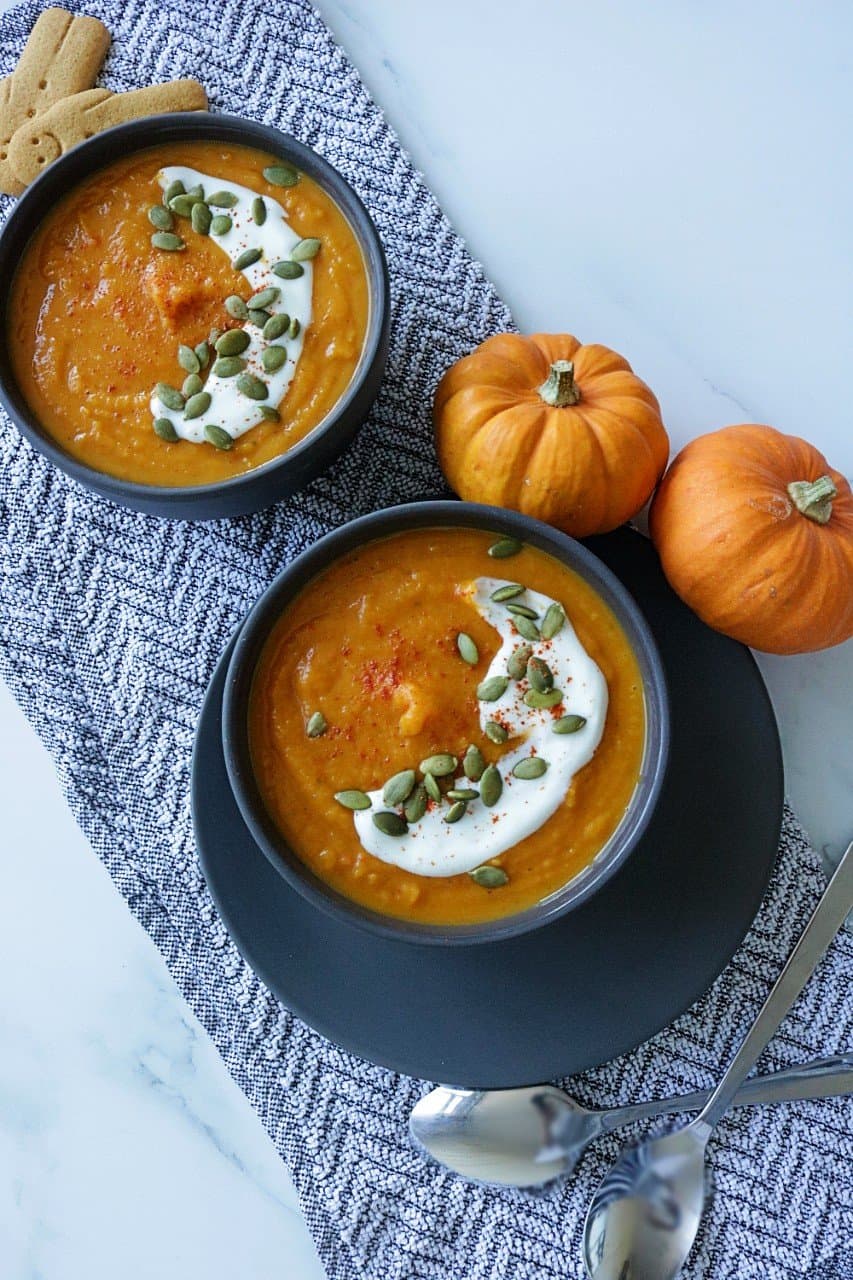 Spicy butternut squash soup ingredients
Butternut squash
Shallots
Red chilli
Garlic
Dried sage, thyme and chilli
How to make roasted butternut squash soup with chilli
We start this recipe by roasting butternut squash. Use one very large butternut squash. Peel it, remove the seeds, and dice into similar sized cubes. The exact size of the cubes isn't incredibly important, but they should all be around the same size so that the all cook at the same time, and the smaller the chunks the faster they will roast. Add them all to a baking tray, and cover with some oil, dried sage, thyme and a pinch of pepper. Combine it and make sure that every chunk of squash is covered with some of the oil and herbs. The squash will usually take between 15-30 minutes to roast, but this will vary based on the size of your chunks. In the last five minutes, add shallots, garlic and chilli to allow these to lightly roast as well.
Move the roasted vegetables over to a blender, add the vegetable stock, and blend until smooth. If you don't have a blender, you can use a hand blender. Add chilli powder to taste, I like 2 teaspoons, but add more if you want more spice. This recipe produces a really thick soup, which is exactly what I like, but you can add a bit more water or stock to the soup to thin it out a bit. If you use warm stock, the soup will now be warm enough to serve directly from the blender, but if it's a bit cold, add it to a saucepan and heat it up for a few minutes.
Top with your favorite toppings. I added a pinch of chilli powder, some pumpkin seeds and a teaspoon of Greek yogurt in each bowl. Serve with some nice crusty bread.
What goes with butternut squash soup?
If you're looking to add spices, herbs or toppings to a butternut squash soup, try dried thyme, cardamom or crispy bacon bits. I also love topping it with crispy chickpeas, chorizo or kale crisps. As the soup is quite thick, I don't usually serve it with anything, but a crusty bread would be amazing. This soup is very sweet and creamy, and has what I can only describe as perfect autumn flavors. I would suggest this soup as a great appetizer followed by your roast dinner.
How to store spicy butternut squash soup
You can store this soup in the fridge in an airtight container for up to 3 days. You can also freeze the soup for up to 3 months. Thaw and reheat in a saucepan, or in the microwave. Most soups can be frozen safely as long as they aren't made with dairy. Many forms of dairy, including cream based soups, tend to separate and get a weird consistency after thawing. As this soup is dairy free, it will keep its consistency after reheating.
Why I absolutely love this soup
It's so incredibly creamy. I've been making creamy soups for many years, and the texture of butternut squash can't be beat. The level of creaminess is just unbelievable. Many soups use cream, cheese, coconut milk, mashed potatoes or flour to obtain that perfect texture, but butternut squash can beat them all with no effort. If you've had sweet potato or pumpkin soup, they also have the same type of texture. So good!
It's autumn in a bowl. It's got the color of autumn. The warmth and comfort of autumn. That extra heat of autumn. Just looking at these pictures makes me think of rainy days, curled up on the sofa, a big knit blanket and bowl of soup in hand. I absolutely love this season!
It's the perfect solution to dietary requirements. It's vegan, dairy free, gluten free, soy free, nut free, and the ingredients are compatible with many of the most common diets. If you're cooking for people that have a variety of needs, this soup is the solution to all your problems.
It's got the 5 key points for an amazing weeknight dinner. Easy, quick, cheap, healthy and kid-friendly. Honestly that's all you need right?
You might also like:
Recipe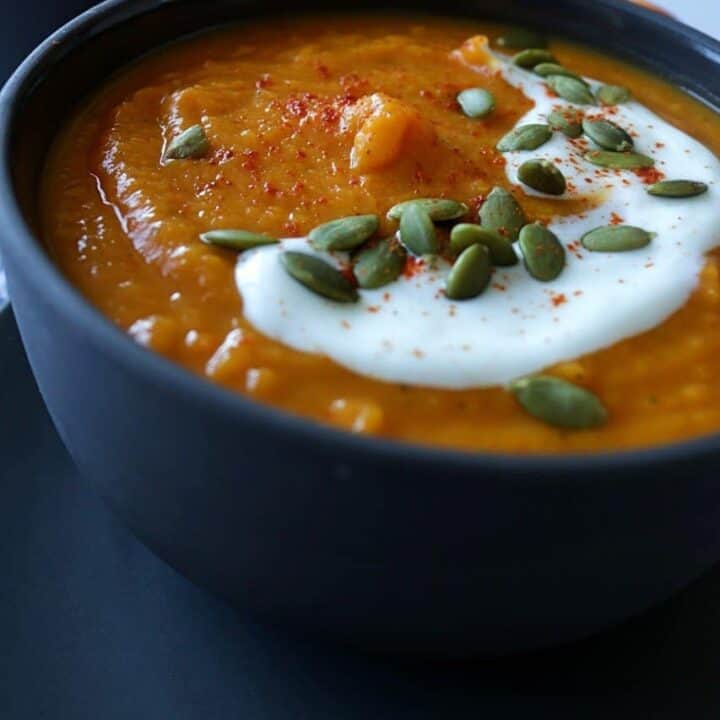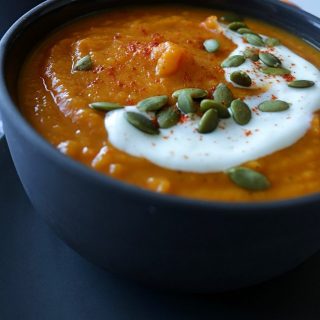 Spicy butternut squash soup
This creamy and delicious soup is perfect for a weeknight meal. Made with roasted butternut squash and chili, it's an easy, spicy, comforting autumn dinner.
Ingredients
1

large

butternut squash

1

red chili

4

small shallots

or 2 large

2

garlic cloves

2

teaspoon

dried sage

1

teaspoon

dried thyme

1

teaspoon

chili powder

500

ml

vegetable stock

or water and two stock cubes
Instructions
Preheat the oven to 200°C / 180°C fan / 400°F

Peel and dice butternut squash. Add to a baking tray and add chili powder, sage, thyme and a drizzle of oil. Combine and make sure that every piece of squash is coated.

Roast in the oven until the pieces start to soften. This will take about 15-30 minutes, depending on how big the chunks are. After about 10 minutes, add roughly chopped garlic, shallots and chili.

Roast until the butternut squash is soft and slightly golden on the edges. Remove it from the oven, and add the squash along with the other ingredients to a blender. If you don't have a blender that's large enough, add it all to a bowl and use a hand blender instead.

Blend until smooth and creamy. Taste the soup, and add more chili, salt or pepper if needed. Add more stock or water if you prefer a thinner consistency.

If you used warm stock, the soup might be suitable to serve immediately. If it's a bit too cold, add it to a saucepan and heat it for a few minutes.
Notes
You can store this soup in the fridge in an airtight container for up to 3 days. You can also freeze the soup for up to 3 months. Thaw and reheat in a saucepan, or in the microwave. 
Nutrition
Calories:
159
kcal
Carbohydrates:
40
g
Protein:
4
g
Fat:
1
g
Saturated Fat:
1
g
Sodium:
697
mg
Potassium:
1057
mg
Fiber:
7
g
Sugar:
10
g
Vitamin A:
27367
IU
Vitamin C:
77
mg
Calcium:
150
mg
Iron:
3
mg