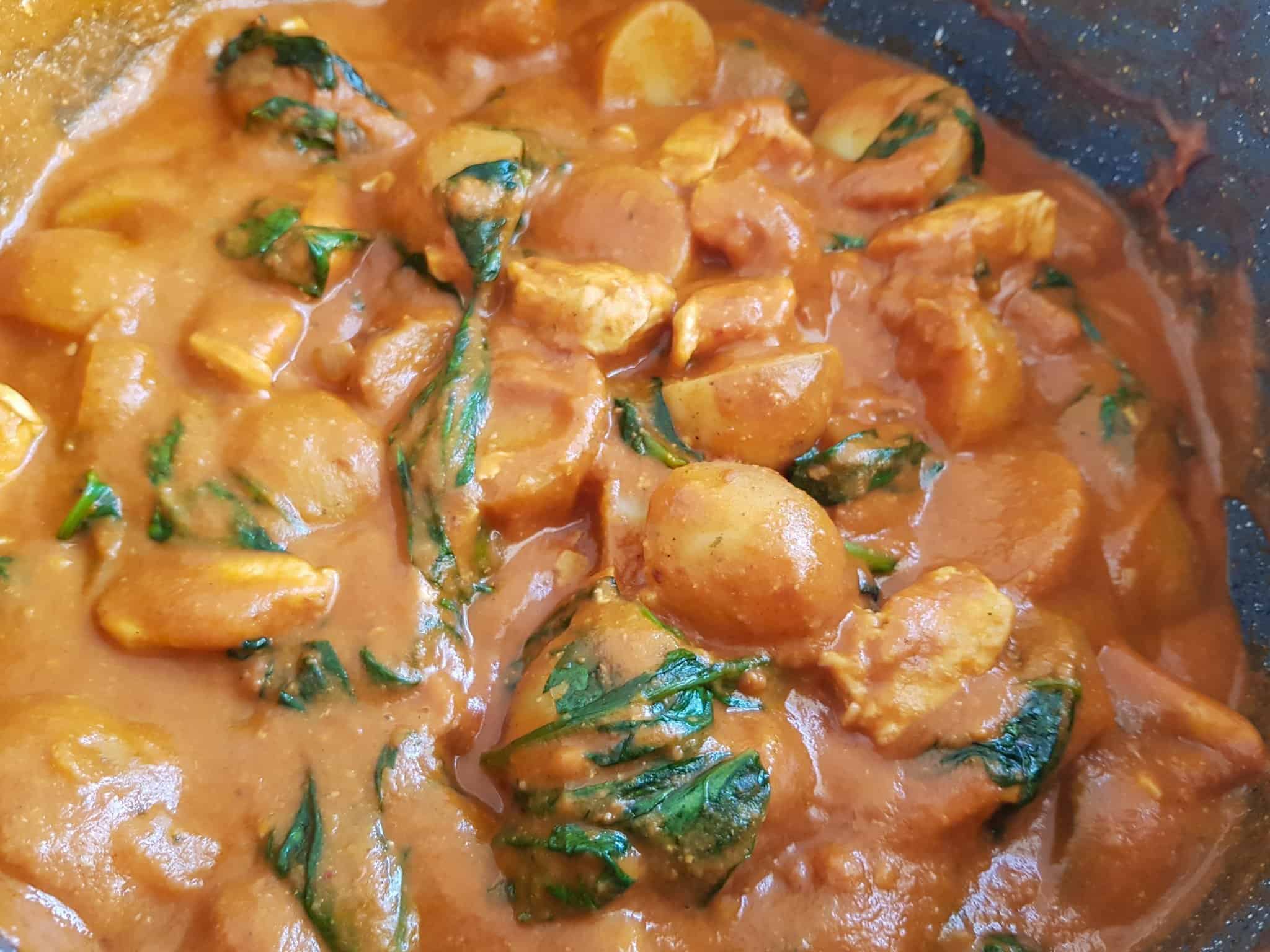 This is some serious peanut butter magic. I'm such a fan! Watch out for more peanut butter stews in the near future. Meanwhile, if you're looking for more creamy chicken dinners, I highly recommend this creamy chicken and chorizo pasta recipe. Check also out my Slow cooker beef stew.
Which peanut butter is good for cooking?
Generally you want to choose plain, unsalted peanut butter for cooking. Always make sure to buy peanut butter that has 100% peanuts, as this gives you a good idea of how the peanut butter will behave during cooking. Some peanut butters tend to be quite thick and solid, while others are a lot more runny. A thin, runny nut butter is great for cooking and baking, especially if you intend to use it for a sauce, dip, or in a stew like this. Both smooth and chunky peanut butter works well, just keep in mind that the crunchy variety will result in small bits of peanuts all over the stew.
Recipe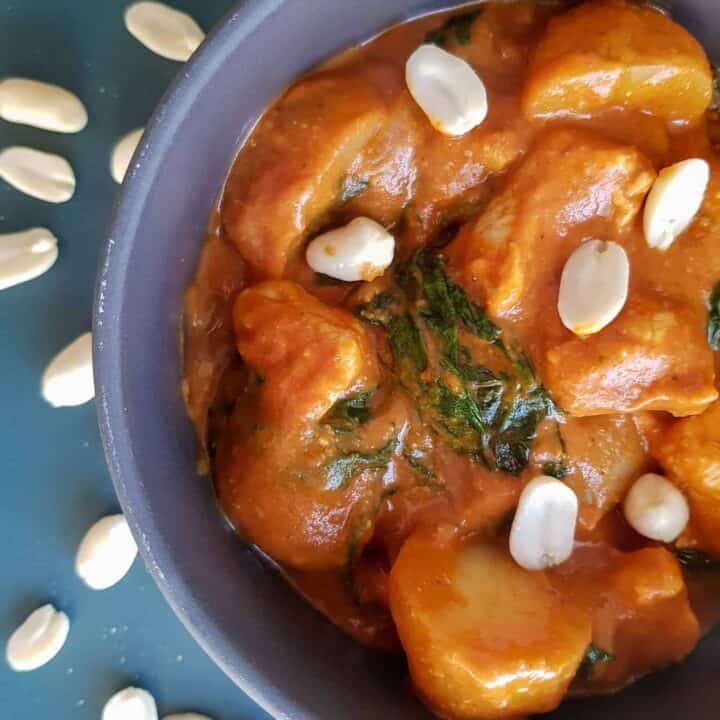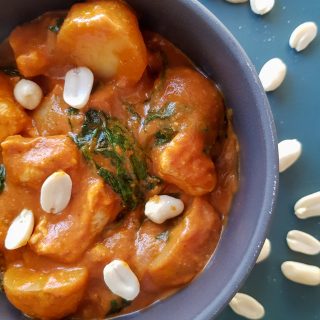 African chicken and peanut stew
Creamy, smooth peanut butter stew with chicken, potatoes and spinach.
Instructions
Heat a splash of water or oil in a pot. Add diced chicken, and cook for 5 minutes until cooked through. Remove chicken and set to the side.

In the same pot, add onion. Cook for a few minutes until translucent.

Add the garlic and cook for one more minute.

Add potatoes, water, bullion cubes, tomato pure and peanut butter. Stir to combine, put a lid on the pot and leave to cook for about 30 minute, stirring occasionally to prevent burning.

Use a fork to check if the potatoes are softening. When they are almost done, add chicken and spinach, and cook for 5 minutes until heated through.

Remove from the heat and serve. Garnish with peanuts if you want.
Notes
This recipe gives 4 portions if served alone, or 5-6 if served with a side dish. African chicken and peanut stew is delicious served with rice, couscous, bulgur, flatbread or quinoa.
Optionally you can sprinkle some peanuts on top, or even add some in the stew right before serving for texture. It gives a nice crunch that suits the stew really well.
Make it vegan or vegetarian
The recipe calls for chicken, but this can be left out if you prefer, or replaced with beans for added protein.
Make it without peanuts
If you have a peanut allergy, you can use almond butter, cashew butter or sunflower seed butter instead. 
Nutrition
Calories:
206
kcal
Carbohydrates:
31
g
Protein:
16
g
Fat:
2
g
Saturated Fat:
1
g
Cholesterol:
36
mg
Sodium:
107
mg
Potassium:
1015
mg
Fiber:
4
g
Sugar:
3
g
Vitamin A:
2127
IU
Vitamin C:
39
mg
Calcium:
59
mg
Iron:
2
mg